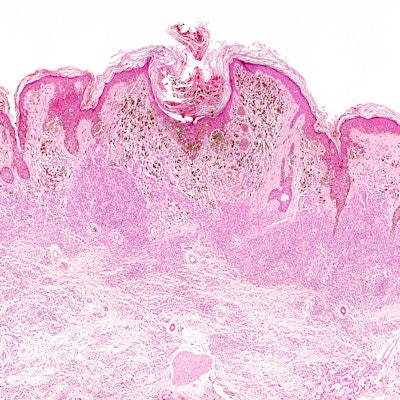 Appropriate use criteria for three gene expression profiling (GEP) tests used in the management of suspicious pigmented/melanocytic lesions and biopsy-proven melanoma were published in September in the journal Skin, a publication of the National Society for Cutaneous Medicine.
The article contains recommendations from a consensus panel of dermatologists and dermatopathologists on three reverse transcription quantitative polymerase chain reaction (RT-qPCR) tests for gene profiling that are CLIA-waived and cleared by the U.S. Food and Drug Administration (FDA):
Pigmented Lesion Assay, 2-gene expression test (DermTech)
Myriad myPath, 23-gene expression test (Myriad Genetics)
DecisionDx, 31-gene expression test (Castle Biosciences)
"Only [three] GEP tests were considered because they are the only validated, CLIA-certified, and widely used tests currently available," senior author Dr. Darrell Rigel, a professor of dermatology at New York University, and colleagues wrote. "Other tests may be available in the future that may supersede the efficacy of the current tests" (Skin, September 2019, Vol. 3:5, pp. 291-301).
Development of the recommendations was funded by the National Society for Cutaneous Medicine, which acknowledged the receipt of unrestricted educational grants from the companies involved with the technologies. Several of the study authors disclosed conflicts of interest, notably consulting and advisory board work for the three test manufacturers, as well as stockholding in DermTech.
The recommendations grade potential uses for each of the three tests, with an A grade representing the highest level of evidence, though the authors noted that a B or C level of evidence is "generally accepted as appropriate for establishing clinical recommendations when A level evidence is not available."
For Castle Biosciences' 31-gene test, for example, one potential use of the test received an A grade recommendation, seven received a B, and six received a C.
The authors acknowledged a lack of focus on cost as a limitation of the analysis, but they added that prices vary depending on a range of factors, including insurance plans, and that "several studies have been published supporting the cost-effectiveness of these tests, and more will likely be undertaken in the future."
"In addition, in many situations, GEP tests are now covered by Medicare and other insurance plans, and assistance from industry is often available, capping the associated costs and facilitating the accessibility of these assays to patients in need," they wrote.