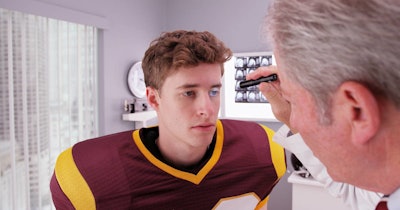 The U.S. Food and Drug Administration (FDA) has granted clearance to Abbott for the first commercially available laboratory test to detect traumatic brain injury (TBI), the firm announced on Tuesday.
The Abbott Park, IL-based company said that it is making the blood test available to U.S. hospitals to provide clinicians with an objective way to quickly assess individuals with mild TBIs, also known as concussions.
The test runs on Abbott's Alinity i laboratory immunoassay instrument, which uses chemiluminescent detection technology, providing a result in 18 minutes to help clinicians quickly assess concussion and triage patients, Abbott said.
For those with negative results, the laboratory test rules out the need for a CT scan and can eliminate wait time at the hospital.
For decades, standard concussion assessment has remained the same, with doctors leveraging the Glasgow Coma Scale, a subjective doctor assessment, and CT scans to detect brain tissue damage or lesions.
Millions of people in the U.S. suffer a concussion each year, but more than half of people who suspect they have a concussion never get it checked.
Having a blood test available could help reduce the number of unnecessary CT scans by up to 40%, potentially reducing costs to the healthcare system and the patient as well as the amount of time they spend in the emergency department, according to Abbott.
"People sometimes minimize a hit to the head, thinking it's no big deal," Dr. Beth McQuiston, medical director in Abbott's diagnostics business, said in a statement. "Others wonder if a visit to the doctor or emergency room for a possible concussion will provide them with meaningful answers or care. Now that this test will be widely available in labs across the country, medical centers will be able to offer an objective blood test than can aid in concussion assessment."
Abbott's test measures two biomarkers in blood plasma and serum that, in elevated concentrations, are tightly correlated to brain injury. The biomarkers -- ubiquitin C-terminal hydrolase L1 (UCH-L1) and glial fibrillary acidic protein (GFAP) -- are complementary. They provide test results with 96.7% sensitivity and 99.4% negative predictive value, Abbott said.
Testing for these two biomarkers in the immediate aftermath of an injury can help healthcare providers decide appropriate next steps and develop a plan to care for patients. The test is for use to aid in the evaluation of patients 18 years of age or older presenting with suspected mild traumatic brain injury (Glasgow Coma Scale score 13-15) within 12 hours of injury to assist in determining the need for a CT (computed tomography) scan of the head.
The test previously received European Union clearance and has been available in markets outside the U.S. since 2021.