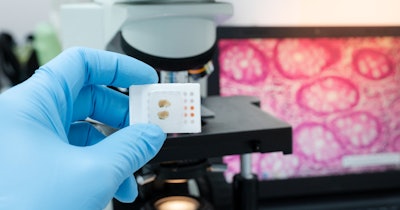 Danaher's Leica Biosystems on Monday announced that it has obtained U.S. Food and Drug Administration (FDA) 510(k) clearance for its Bond MMR Antibody Panel, providing a high-performing immunohistochemistry (IHC) mismatch repair (MMR) option for customers that are screening colorectal cancer (CRC) patients for probable Lynch syndrome.
Lynch syndrome is a rare inherited cancer susceptibility syndrome that increases the likelihood of developing colorectal cancer, and may account for up to 5% of all CRC cases.
Cancer treatment guidelines support screening for MMR status with newly diagnosed CRC cases as a preliminary method to screen for Lynch syndrome. IHC, one of the suggested methods for screening, is increasingly used in clinical practice.
"Pathologists can utilize the Leica Biosystems Bond MMR Antibody Panel on the Bond-III for clear, accurate assessment of mismatch repair protein status in only 2.5 hours," Dr. Robert Monroe, chief medical officer at Leica Biosystems, said in a statement.