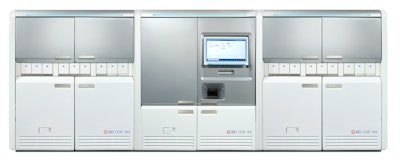 Becton Dickinson (BD) on Thursday announced it has received 510(k) clearance from the U.S. Food and Drug Administration (FDA) for the BD Vaginal Panel on the BD Cor molecular diagnostic system.
The diagnostic test directly detects the three most common infectious causes of vaginitis using the firm's high-throughput platform for large laboratories.
According to BD, the molecular diagnostic system uses a multiplex polymerase chain reaction (PCR) assay design and requires less than one hour of daily hands-on time.
In 2016, the BD Vaginal Panel was granted marketing authorization for use with the firm's BD Max System. According to BD, it is the first microbiome-based PCR assay that uses a single swab and test to simultaneously detect organisms associated with bacterial vaginosis (BV), vulvovaginal candidiasis (VVC), and Trichomonas vaginalis (TV).
The test reports a positive or negative result for each condition separately. Accurate diagnosis of BV, VVC, and TV is critical to ensuring appropriate treatment regimens and decreasing the risk of associated complications and resistance to treatment. Using a single test can also help reduce the need for repeat testing and unnecessary use of treatments, as well as lower the risk of contracting sexually transmitted infections (STIs), BD noted.