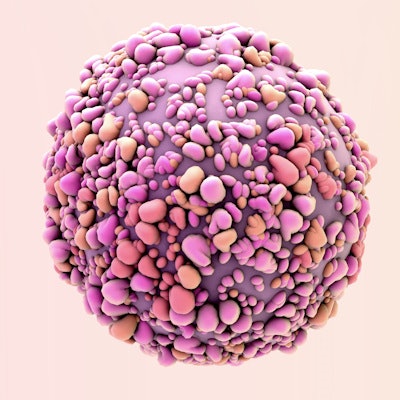 Natera on Monday announced data for its molecular residual disease (MRD) test, Signatera, presented in four abstracts at the European Society for Medical Oncology (ESMO) Congress 2022 in Paris.
One abstract, related to the Bellini trial, examined the potential clinical utility of circulating tumor DNA (ctDNA) in assessing the response to neoadjuvant immunotherapy in patients with early-stage (I-II) triple-negative breast cancer (TNBC).
Before beginning neoadjuvant chemotherapy, 30 patients were treated with two cycles of the immune checkpoint inhibitor nivolumab, either on its own or in combination with ipilimumab. Those who achieved a partial response presented with 50% to 100% reduction in ctDNA levels compared to pretreatment, while increasing or stable ctDNA levels were observed in non-responders.
"The Bellini trial supports MRD testing for early, reliable immunotherapy response monitoring in the neoadjuvant TNBC setting," Dr. Minetta Liu, Natera's chief medical officer of oncology, said in a statement.
Natera also announced data from a retrospective analysis of how real-world monitoring of ctDNA could predict cancer recurrence in patients with resected stages I-III colorectal cancer (CRC).
The MRD status of 16,347 patients was assessed using the Signatera test after surgery and during surveillance. Postoperative MRD-positive status was significantly associated with inferior recurrence-free survival, while MRD-negative status showed no significant benefit from adjuvant chemotherapy, regardless of other risk factors such as stage, age, or microsatellite instability status.
"Incorporating MRD testing into the standard of care for CRC may better identify the patients with a high risk of recurrence -- enabling timely intervention, while sparing those who would not benefit from unnecessary treatment," Dr. Stacey Cohen of the Fred Hutchinson Cancer Center, who is the study's principal investigator, said in a statement.
Natera also announced data from a proof-of-concept study for detecting ctDNA in rare thyroid cancers. In a separate presentation, the firm described the phase I dose escalation of IMC-F106C, the first PRAME x CD3 ImmTAC bispecific protein, in solid tumors.