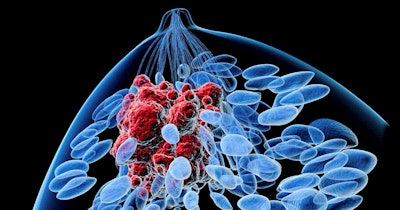 Targeting women who express certain proteins could increase the response rate to a breast cancer drug that achieved mixed results in previous clinical trials, according to a paper published in EMBO Molecular Medicine.
The drug, the anti-RANKL antibody denosumab, is already used to treat osteoporosis and skeletal-related events linked to bone metastases. Preclinical evidence suggests RANKL and its receptor RANK also offer a way to treat breast cancer, with researchers showing they regulate mammary tumor initiation. The loss of RANK signaling stops or slows tumor formation and induces tumor cell death.
However, clinical trials of denosumab in breast cancer have yielded mixed results. While one clinical trial linked the drug to improved disease-free survival, another study found it had no positive effects. In light of the conflicting results, researchers at the Spanish National Cancer Research Centre (CNIO) and the Bellvitge Biomedical Research Institute sought to understand the value of RANK and RANKL protein expression, both as a predictor of breast cancer outcomes and as a therapeutic target.
To do so, the researchers analyzed more than 2,000 breast tumor samples. The analysis revealed that the RANK receptor is more frequently expressed in patients with estrogen receptor (ER)-negative breast cancer, and that expression is associated with worse prognosis. Ten-year survival was significantly worse in RANK-positive, ER-negative breast cancer than in RANK-negative, ER-negative breast cancer.
Seeking to understand if denosumab may be able to improve outcomes, the researchers studied the effect of RANKL inhibition in mouse models. The preclinical studies found RANKL inhibition reduced tumor cell proliferation and plasticity, regulated tumor immunity and metabolism, and boosted response to chemotherapy. Eva González-Suarez, a researcher at CNIO and the lead author of the paper, explained the implications of the findings in a statement.
"The reliability of the results is high. They suggest that there is a group of patients who could benefit from treatment with denosumab and reactivate the option of starting breast cancer trials by selecting patients," González-Suarez said.
Earlier clinical trials of denosumab did not stratify patients by RANK expression. The researchers think retrospective analyses of RANK pathway expression could help to evaluate the response to denosumab in the subpopulation of breast cancer patients who are most likely to benefit from the drug. Similarly, the link between RANK expression and negative health outcomes, including reduced survival, suggests the protein may have a role as a prognostic biomarker.