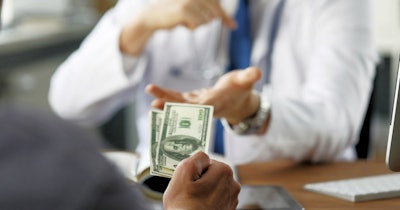 Illumina may be fined 10% of its annual revenues for completing the takeover of Grail in 2021 without European Union antitrust approval.
In a report Wednesday citing people familiar with the matter, Reuters said the firm could face the maximum penalty because of the takeover of Grail but planned to appeal any fine.
Illumina CEO Francis deSouza earlier this week had outlined a vision for sequencing markets, his company's future, and the potential for Grail, the maker of a promising multicancer screening test called Galleri.
The company announced this week that it expects to book full-year consolidated 2022 revenue of $4.576 billion.
In December, EU antitrust regulators proposed measures for Illumina to unwind its acquisition soon after blocking the deal with concerns that it would stymie competition.
"Grail must be held and operated separately and independently from Illumina pursuant to the interim measures ordered by the European Commission," deSouza said on Monday during a presentation at the 41st Annual J.P. Morgan Healthcare Conference in San Francisco. "Illumina reacquired Grail in 2021, and as we work through the regulatory process, we're also exploring strategic options related to the divestiture order from the European Commission expected this quarter. We'll keep you updated."
Given the potential for Grail outlined by deSouza, Illumina should fight hard to keep regulators at bay. For 2022, in the year after the launch of Galleri, Grail revenue was $55 million; a revenue compound annual growth rate (CAGR) of 60% to 90% is expected over the next five years
Although Illumina expects to book an operating loss for Grail of approximately $670 million for last year, that reflects investments to support a U.S. Food and Drug Administration (FDA) application for marketing clearance, a large U.K. National Health Service (NHS) clinical trial, and expanding the commercial organization, deSouza said on Monday.
Grail should break even in the next five years, he added.
"We see significant need across the cancer journey, starting with early detection," deSouza said. "The Grail Galleri blood test is the only commercially available multicancer early detection test addressing a $44 billion early screening market."
The blood test screens for more than 50 cancer types and pinpoints cancer location with 89% signal-of-origin accuracy. Reported cancers detected by the test include stage I pancreatic, head and neck, endometrial, and esophageal and gastrointestinal stromal tumor cancers, as well as stage II rectal, liver, and head and neck cancers.
"Consumer demand for the Galleri test has exceeded expectations with physician orders for more than 60,000 tests received to date," deSouza said, adding that clinical trial data for the test "is consistent and positive, and real-world evidence of more than 38,000 patients corroborates this data."
Grail is also making progress toward reimbursement with 300,000 participants across multiple studies and a final FDA submission expected in 2024 or 2025. Its NHS trial spans 140,000 participants; a rollout of the multicancer test to one million people beginning in 2024 is expected if the trial is successful, deSouza said.
In addition to Galleri, Grail is working on a multicancer minimal residual disease (MRD) test that doesn't require a tissue biopsy and enables a two-to-three times reduction in turnaround time compared to approaches that require tissue biopsies, deSouza said.
Overall, Illumina develops and markets sequencers that enable researchers and clinicians to read genomes and decode how they translate into health and disease.
deSouza said that in the future he believes carrier screening and noninvasive prenatal testing will be standard, and newborns will be sequenced as a frontline diagnostic screen for suspected genetic conditions. Genomic testing will be routine for early detection of diseases, including cancer and neurodegenerative diseases, and therapy effectiveness and recurrence monitoring will be required for every progressive treatment, he added.
"Our market today is only 7% penetrated, going to 14% by 2027, driven by increased adoption of genomics globally," deSouza said. "By 2027, our addressable market will be $120 billion, a sixfold increase from 2014, as clinical oncology, genetic disease, and reproductive health testing expand and new research modalities like multiomics, single cell, and spatial emerge."