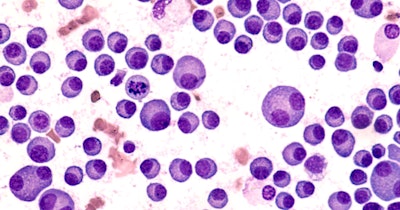 A new agent that can be taken once daily in pill form showed promising results in a clinical trial when used in combination with a steroid in patients with multiple myeloma who had relapsed and stopped responding to currently available therapies.
Results of the trial have been published in the New England Journal of Medicine, with an accompanying editorial.
Mezigdomide acts as both immunotherapy and a targeted treatment when combined with the steroid dexamethasone; it subverts myeloma cells from within while subjecting them to an immune system attack.
The results of the trial are particularly encouraging because mezigdomide is administered in pill form, which the patient may take at home daily. Many other immunotherapies must be custom-made for each patient, are administered intravenously, and may require a hospital stay, the study authors noted.
The phases I and II trial included 178 patients with multiple myeloma who had previously been treated with the standard therapy of a combination of three classes of drugs. Some study participants had also received anti B-cell maturation antigen (BCMA) targeting treatment, including CAR-T cell therapy, bispecific monoclonal antibodies, and the antibody drug conjugate belantamab mafodontin.
Study participants ranged in age from 42 to 85; the oldest were ineligible for more intensive treatments such as CAR T-cell therapy. Most of the patients had high-risk disease with a poor prognosis; all had received at least three prior lines of treatment or more and had relapsed and become resistant to currently approved drugs.
Participants took mezigdomide daily for three weeks and dexamethasone every seven days during that period. At a six-month follow-up, more than 40% of the participants had a response to the treatment with at least a 50% reduction in disease burden. In three cases, there was a sustained complete response -- i.e., the disease could not be detected -- even with the most sensitive tests.
Furthermore, the median progression-free survival (how long patients lived before the disease showed signs of worsening) for all of the treated patients was approximately four months; however, that number reflects early data and will probably increase, the authors note. The median duration of response was almost eight months, and among patients who had a very good partial response to the therapy, that average was over nine months. Again, those numbers are likely to increase over time.
The side effects of the treatment were manageable, with very few participants dropping out of the study due to adverse effects. The most common side effect was neutropenia, a decrease in white blood cell counts, which was readily reversible.
"We're hopeful that this body of data provides substantial evidence of the value of this approach to patients with an urgent unmet medical need, and further supports this oral agent being tested in combination with other back bone therapies, where our preliminary results are already promising, and now are being evaluated as part of larger, ongoing phase 3 clinical trials," said Dr. Paul Richardson of Dana-Farber Cancer Institute, who led the trial with investigators across North America and Europe.