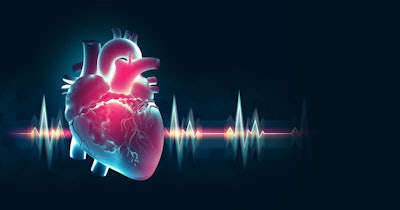 Roche on Wednesday announced the publication of findings from the Safety, Tolerability, and Efficacy of Rapid Optimization of Heart Failure (STRONG-HF) study in patients hospitalized for acute heart failure.
The study demonstrated that rapid, simultaneous up-titration of therapies and close follow-up led to increased quality of life for patients, Roche said.
The study included the firm's Elecsys NT-proBNP biomarker, a cardiac hormone released into the bloodstream when the heart wall is stretched.
The study "emphasizes how diagnostic solutions like NT-proBNP, embedded in a therapeutic strategy, are an integral part of improving patient care," Thomas Schinecker, CEO of Roche Diagnostics, said in a statement.
The results were shared this week at an American Heart Association Late-Breaking Scientific Session and published simultaneously in the Lancet.
STRONG-HF is a multinational open-label randomized, prospective clinical trial designed to assess the safety and efficacy of early and rapid up-titration of optimization of heart failure therapies, including guideline-recommended, frequent NT-proBNP measurements, and close follow-up in patients admitted to a hospital for acute heart failure.
The study enrolled 1,078 of the initially planned 1,800 patients at the time of termination for superior efficacy, as it was considered unethical to continue with usual care, Roche said.
The primary endpoint showed an absolute risk reduction of 8.1% and a relative risk reduction of 34% in all-cause mortality or heart failure readmission six months after enrollment in the high-intensity care arm.
The risk of all-cause mortality or hospital readmission was 15.2% lower in the high-intensity care arm using NT-proBNP to inform titration of oral HF medications versus 23.3% in the usual care arm without routine NT-proBNP testing and frequent visits.