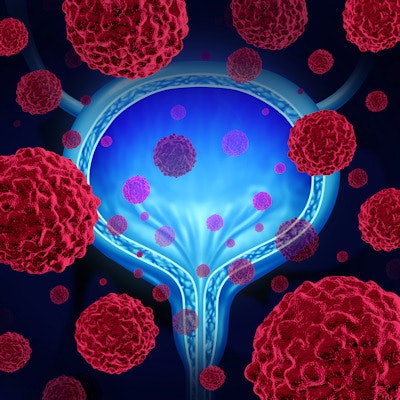 Results from Natera's prospective study validating its Signatera circulating tumor DNA (ctDNA) test in urothelial bladder cancer were published online in the Journal of Clinical Oncology on May 6, the same day the company announced the product had received the breakthrough device designation from the U.S. Food and Drug Administration (FDA).
Researchers evaluated use of the test in 68 patients with muscle invasive bladder cancer who received neoadjuvant chemotherapy before cystectomy at Aarhus University in Denmark. They examined a total of 656 blood samples taken at the time of diagnosis, during chemotherapy treatment, before cystectomy, and in post-treatment monitoring.
Results were reported by Aarhus University's Emil Christensen, PhD, with Natera execs in JCO, following presentation at meetings of the American Association for Cancer Research and the European Society for Medical Oncology in 2018.
In the study, the ctDNA analysis correctly identified all patients who relapsed with metastatic disease following cystectomy, with 100% sensitivity and 98% specificity. The ctDNA test identified disease recurrence with a median lead time of 96 days over radiographic imaging, the researchers added.
"To our knowledge, this report is the largest and most comprehensive study of ctDNA in patients with bladder cancer to date," Christensen and colleagues wrote. "We document that ctDNA is a powerful biomarker for prognosis and early detection of metastatic disease. Furthermore, we show that ctDNA dynamics during treatment is a predictor of chemotherapy response and patient outcome."
Furthermore, they concluded that ctDNA biomarkers are "superior to tumor-centric biomarkers (mutations and subtypes) for predicting treatment efficacy, and novel randomized clinical trials should be initiated to determine the clinical impact of ctDNA-stratified therapeutic approaches."
Natera differentiates Signatera as a test that is custom-built for monitoring molecular treatment and assessing molecular minimal residual disease (MRD). The product has received the breakthrough device designation from the FDA for quantifying ctDNA in patients previously diagnosed with "certain types of cancer and in combination with certain drugs," according to the company. Natera plans to launch the test in the second quarter and bring in $40 million to $50 million in contracts with pharmaceutical companies by the end of the year.