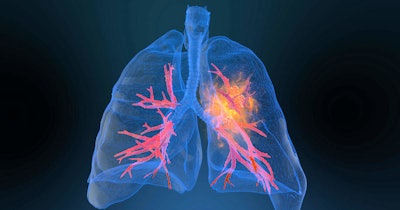 South Korea-based GC Genome on Sunday announced the publication of a study in Radiation Oncology Journal that it said demonstrates the feasibility of cell-free DNA (cfDNA) monitoring to predict treatment response and detect minimal residual disease after radiation therapy in solid tumor patients.
The research conducted in collaboration with the Samsung Medical Center, Sungkyunkwan University School of Medicine, used I-score, a tool for calculating genomic instabilities developed by GC Genome.
It adds to the previous studies of prognostic effects of the I-score in various solid tumors, including hepatocellular carcinoma, esophageal cancer, and pancreatic adenocarcinoma, the firm said.
In the new study, the investigators analyzed 23 plasma samples from cancer patients with lung, esophageal, or head and neck cancer, as well as plasma samples from 358 healthy people as negative controls.
Test performance was evaluated using I-score at serial cfDNA monitoring points: before radiation therapy, one week after radiation therapy, and one month after completion of radiation therapy.
GC Genome noted the results showed that pretreatment I-scores tended to be higher in larger tumors, and there was a significant positive correlation between the gross tumor volume and the baseline I-score. Furthermore, minimal residual disease following radiation therapy was detected earlier by cfDNA than by imaging studies. The serial monitoring of the I-score in the post-treatment four-months case demonstrated that the change in I-score was observed before the progression of the disease was detectable through imaging studies.
"The findings of this study may have significant implications for the field of oncology, particularly for patients with lung, esophageal, and head and neck cancer," Dr. Chang-Seok Ki, CEO of GC Genome, said in a statement. "Further additional studies are ongoing to optimize the measurement and analysis of I-scores to predict radiation response accurately. The potential of cfDNA I-score as a monitoring tool in cancer treatment deserves continued investigation and attention."