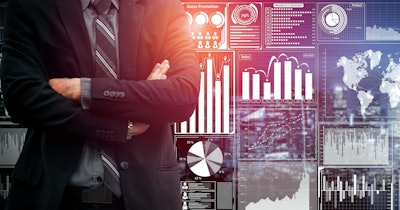 Roche on Thursday announced 2022 revenues of 63.28 billion Swiss francs (CHF), an increase of 1% compared to CHF 62.80 billion in 2021.
For the year ended December 31, Diagnostics Division revenues of CHF 17.73 billion were almost flat year-over-year compared to CHF 17.76 billion. Revenue growth for its base diagnostics business, up 7% year-over-year, more than compensating for the continuing decline in the demand for COVID-19 tests in the second half of the year, Roche said. Growth was mainly driven by immunodiagnostic products.
The company's COVID-19 tests generated 2022 revenues of CHF 4.1 billion, down 13% compared to CHF 4.7 billion in 2021.
Pharmaceuticals Division 2022 revenues of CHF 45.55 billion increased 1% year-over-year from CHF 45.04 billion.
"We achieved good results in 2022, even though the demand for COVID-19 products declined, as expected," Roche CEO Severin Schwan said in a statement. "The diagnostics base business and our newer medicines continued their strong growth."
For 2023, the firm expects "solid underlying growth in both divisions, which will largely compensate for the further significant drop in sales of roughly CHF 5 billion in COVID-19 products," Schwan added.
Within the Diagnostics Division, 2022 Core Lab revenues of CHF 7.78 billion rose 3% year-over-year from CHF 7.56 billion. Point-of-Care revenues of CHF 3.59 billion rose 15% year-over-year from CHF 3.13 billion. Molecular Lab revenues of CHF 3.45 billion dropped 17% year-over-year from CHF 4.17 billion. Diabetes Care revenues of 1.60 billion were down 5% year-over-year from CHF 1.69 billion. Pathology Lab revenues of 1.32 billion increased 10% year-over-year from CHF 1.20 billion.
Immunoassays, such as cardiac and oncology tests, and clinical chemistry products were the main growth drivers in the Core Lab diagnostics segment. Sales grew across all regions but most growth was seen in the Asia-Pacific; Europe, the Middle East, and Africa (EMEA); and Latin America regions.
In the Point of Care business, SARS-CoV-2 Rapid Antigen tests continued to be the main growth driver. Demand for the Cobas SARS-CoV-2 & Influenza A/B assays also increased, and the largest contribution came from the Asia-Pacific and North America regions, according to Roche.
Molecular Lab revenues decreased in 2022 due to lower COVID-19-related sales in the North America and EMEA regions. The decrease was partly offset by growth in the base business across the portfolio.
Diabetes Care sales decreased because of the effect of the resolution of a rebate dispute in 2021. The continued contraction of the blood glucose monitoring market, mainly in the U.S. and Europe, was offset by a higher demand in emerging geographic markets.
Pathology Lab revenue growth across all regions was driven mainly by sales increases in the advanced staining and the companion diagnostics businesses.
Sales of COVID-19 medicines were generally lower in 2022, with a decline of roughly CHF 0.5 billion driven by a drop in sales of Actemra/RoActemra for severe COVID-19 pneumonia that was partly offset by the sales growth of Ronapreve for high-risk patients in Japan.
Roche said that among the most important milestones for the Diagnostics division in the fourth quarter of 2022, it shared positive outcomes of the STRONG-HF study, which leveraged its Elecsys NT-proBNP biomarker, in patients hospitalized with acute heart failure. It was the first time a cardiac-related diagnostic study was stopped early because of superior efficacy in the active arm of the study. Implementing the study's strategy in routine clinical practice has the potential to create a paradigm shift in the management of heart failure patients, Roche said.
In December, the company obtained U.S. Food and Drug Administration (FDA) clearance for the Elecsys AD CSF assays for the detection of Alzheimer's disease. The assays will be available on its Cobas fully automated analyzers.
Earlier in 2022, the firm developed a suite of tests to detect the monkeypox virus and in November, nabbed an FDA Emergency Use Authorization (EUA) for the polymerase chain reaction (PCR)-based Cobas MPXV monkeypox test for use on its fully automated, high-throughput platforms.
Roche's 2022 net income was CHF 13.5 billion, down 10% compared to CHF 14.94 billion in 2021.
In 2023, Roche expects revenues for COVID-19 products to decline by roughly CHF 5 billion and that its overall sales growth will be in the low single-digit range at constant exchange rates.