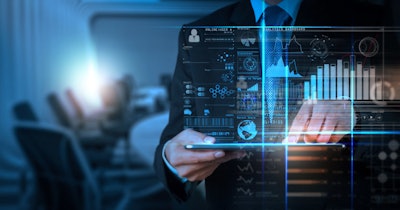 While Illumina has seen challenges with the rollout of its new NovaSeq X high-throughput sequencer, the challenges are typical of any product rollout and demand for the new system remains high, said interim CEO Charles Dadwell in a conference call with investors on Wednesday.
Illumina placed 109 NovaSeq X instruments during the quarter, exceeding an anticipated 80 placements, with 20% of customers ordering more than one instrument. Illumina now expects to place 390 instruments in 2023, instead of the 330 the firm originally anticipated.
However, due to customers transitioning to the NovaSeq X, Illumina saw reduced demand for high-throughput sequencing consumables. Along with weak sales in China due to slow post-COVID economic recovery and competition in the mid-throughput sequencing market, the reduced demand resulted in only a 1% increase in total year-over-year revenues.
Illumina is lowering its 2023 guidance for total revenue and EPS. The firm now anticipates consolidated revenue growth of approximately 1% year over year, with core Illumina revenues flat for the period. Additionally, Illumina now expects a loss per share of $2.08 to $1.93 and adjusted EPS of $.75 to $.90. However, Illumina reiterated its Grail revenue guidance in the range of $90 million to $110 million.
For the quarter ended June 30, Illumina recorded total revenues of $1.18 billion compared to $1.16 billion in the second quarter of 2022, beating analysts' estimate of $1.16 billion. Nearly all revenues came from the core Illumina business. Illumina's recently acquired subsidiary Grail recorded revenues of $22 million from fees for its Galleri multicancer liquid biopsy test.
Illumina reported a net loss in the quarter of $234 million, or $1.48 per share, compared to a net loss of $535 million, or a $3.40 loss per share, in Q2 2022. On an adjusted basis, Illumina reported EPS of $.32 compared to $.57 in the year-ago quarter, beating the consensus Wall Street estimate of net income of $.02 per share.
Illumina's core R&D expenses grew 10% to $274 million in Q2 from $249 million a year ago, while its core SG&A expenses grew 6% to $359 million from $339 million a year ago. The firm reported $12 million in legal contingency and settlement expenses. Grail R&D expenses were $89 million, up 3 percent from $86 million a year ago, while SG&A expenses were $91 million, up 26 percent from $72 million a year ago.
Illumina finished the quarter with $1.55 billion in cash and cash equivalents and $6 million in short-term investments.
For the third quarter, Illumina anticipates consolidated revenues to increase 2% year over year to $1.14 billion, and an adjusted EPS of $.10 to $.15.
In Nasdaq Thursday morning trading, Illumina's shares were up 4% to $191.85.