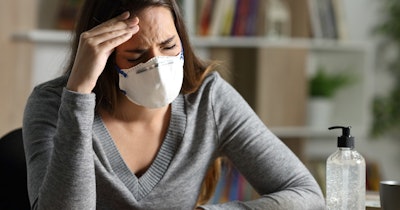 OraSure Technologies after the close of the market Wednesday reported first-quarter revenue of $155 million, up 129% from $67.7 million in Q1 2022.
For the quarter ended March 31, the Bethlehem, PA-based company booked $118.4 million in revenue for all COVID-19 products, a 282% increase from $31 million in Q1 2022. Core business revenue growth was almost flat year-over-year, with OraSure reporting $36.6 million for that business in the recently completed quarter.
OraSure's COVID-19 products business surged in Q1 as it reported revenues of $118.3 million for the InteliSwab COVID-19 Rapid Test; revenue increase 33% compared to Q4 2022 for sales of the lateral flow immunoassay which is used for the qualitative detection of the SARS-CoV-2 nucleocapsid protein antigen.
In the recently completed quarter, OraSure's delivery of record test volume for InteliSwab was supported by the federal government's school testing program. However, demand for InteliSwab is tapering in Q2 2023, and OraSure has begun to scale down its COVID-19 production. The company is closing an overseas production operation as part of its broader strategy to consolidate manufacturing.
In Q1, core business growth was driven by strong HIV sales as OraSure began delivering orders under the Let's Stop HIV Together program; it booked strong international HIV test sales due to a carryover of orders from the fourth quarter.
OraSure's Q1 net income was $27.2 million, or $.37 per share, compared to a loss of $19.9 million, or a loss of $.28 per share, in the prior-year quarter.
At the end of the quarter, the firm had $112.4 million in cash and cash equivalents.
Among recent business highlights, OraSure announced a collaboration with Ziwig, a French biotech company that is commercializing technology that uses salivary miRNA to diagnose endometriosis.
OraSure inked a partnership deal with Novozymes to support the biotech firm's BiomeFx microbiome test, which leverages insights from the gut and vaginal microbiome.
OraSure also signed a commercial collaboration with nRichDx to validate and co-promote products for liquid biopsy applications using first-void urine samples. The companies are evaluating applications for the detection of sexually transmitted infections, human papillomavirus (HPV), and early-stage cancer.
In Q1, OraSure reduced its non-production workforce by 11% as part of a plan to save $15 million in annual spending. Its president and CEO Carrie Eglinton Manner said in a statement that the firm is aiming for "additional cost savings in the near-term as COVID-19 volumes have begun to taper."
The company recently implemented new packaging changes for InteliSwab, which are expected to yield savings of approximately $0.50 per test.
"With facility consolidation, implementation of additional automation, and manufacturing process upgrades, we plan to further drive efficiencies and believe we will achieve our goal to breakeven in cash flow from operations for the core business in 2024," Eglinton Manner said.
OraSure shares rose more than 9% to $7.70 in early Thursday trading on the Nasdaq.