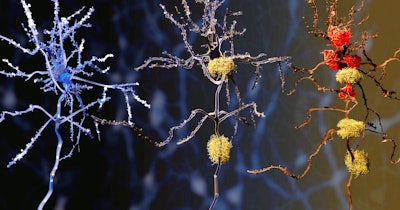 Roche has received 510(k) clearance from the U.S. Food and Drug Administration (FDA) for assays that could accelerate the diagnosis of Alzheimer's disease and thereby facilitate timely treatment.
Patients who present with Alzheimer's-like symptoms are currently largely diagnosed by excluding other possible causes using cognitive exams, laboratory tests, and neuroimaging. However, the process can take years to deliver an accurate diagnosis and, with therapies targeting the early stages of the disease now coming to market, the delays could increasingly stop patients from receiving effective treatment.
Roche, one of the companies with Alzheimer's drug candidates in development, is working to improve the diagnosis of the neurodegenerative disease. Last year, the Swiss company received FDA clearance for a test that analyzes two molecules in cerebrospinal fluid (CSF) to help confirm the presence of amyloid, a marker of Alzheimer's and drug target, without PET scan imaging. PET scans are expensive and hard to access for some patients, limiting their use as a diagnostic tool.
The new 510(k) clearance covers two tests that run on Roche's Elecsys immunoassay system. One of the assays, which measures beta-amyloid, was part of the 510(k) clearance that Roche received last year. The other assay tests for total tau, another protein that builds up in the brains of patients with Alzheimer's.
Because levels of the biomarkers change early in Alzheimer's, comparing the ratio of the two proteins in a CSF sample can offer insights into whether a patient's symptoms are caused by the neurodegenerative disease. Above a certain threshold, the ratio is consistent with a positive amyloid PET scan. The test is cleared for use in people ages 55 and older who are being assessed for the causes of cognitive impairment.
While the test cannot diagnose Alzheimer's, it may be able to play a role in helping to identify the cause of cognitive impairment, as Brad Moore, president and CEO of Roche Diagnostics North America, said in a statement.
"An early and accurate diagnosis can help patients, caregivers and physicians determine a path forward, and the Elecsys CSF assays support diagnosis at early disease stages, when treatment is most effective," Moore said.
The FDA clearance of the two tests, the first of which compares beta-amyloid to phospho-tau, positions Roche to profit if healthcare providers rethink their approach to diagnosing Alzheimer's in response to the development of effective therapies. Roche is also developing a panel to measure Alzheimer's biomarkers in blood samples but is yet to receive regulatory clearance for the test.