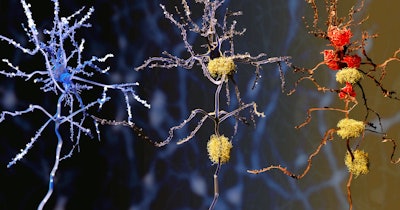 The U.S. Food and Drug Administration (FDA) has granted 510(k) clearance to Roche for the marketing of its Elecsys beta-Amyloid (1-42) CSF II (Abeta42) and Elecsys Phospho-Tau (181P) CSF (pTau181) assays, the firm said on Thursday.
The Elecsys AD CSF Abeta42 and pTau181 assays (used as a pTau181/Abeta42 ratio) measure beta amyloid and tau proteins, two biomarkers that are hallmarks of Alzheimer's pathology, in adults ages 55 and older being evaluated for the disease.
According to Roche, the Elecsys AD CSF assays achieve 90% concordance with amyloid PET scan imaging and have the potential to provide a more affordable and accessible routine option to confirm the presence of amyloid in the brain. They also offer detection of multiple biomarkers from one cerebrospinal fluid (CSF) draw, with no radiation and potential to detect Alzheimer's pathology in early stages of disease., the firm added.
Currently, the diagnosis of Alzheimer's is one of exclusion, largely based on various cognitive tests, routine laboratory tests, and structural imaging including MRI or CT scans. Clinical criteria are limited and lead to an accurate diagnosis in 70% to 80% of cases. To increase diagnosis accuracy, an amyloid positron emission tomography (PET) scan, that measures the buildup of abnormal beta amyloid protein in the brain, can be used as an adjunct to these evaluations. However, its high cost, limited availability, and exposure to radioactivity limit its use.
Alzheimer's disease is characterized by the abnormal accumulation in the brain of amyloid beta and tau proteins.
Specifically, the Elecsys beta-Amyloid (1-42) CSF II and Elecsys Phospho Tau (181P) CSF assays measure the beta amyloid (1-42) and phospho-tau (181P) concentrations in CSF samples from adults age 55 and older being evaluated for Alzheimer's disease and other causes of cognitive impairment to generate a pTau181/Abeta42 ratio value.
As changes in these biomarker levels occur at early stages of the disease, the assays can detect Alzheimer's pathology in earlier stages of disease, when for example there is mild cognitive impairment, Roche said, adding that the Abeta42 and pTau181 assays are intended to be used in addition to other clinical diagnostic evaluations to determine whether a person has Alzheimer's.