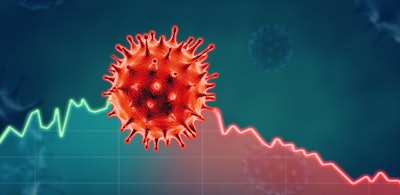 Point-of-care diagnostics firm LumiraDx on Wednesday reported first-quarter revenue of $22.2 million, a drop of 82% compared to $126.4 million in Q1 2022.
For the quarter ended March 31, COVID-19 antigen test revenues were $10.6 million.
"Our transition to non-COVID is beginning to develop, especially with the commercial launches of HbA1c and NT-proBNP on our platform," Ron Zwanziger, chairman and CEO of LumiraDx, said in a statement.
In April, the company had announced a cost restructuring program involving a reduction of its global workforce by approximately 40%. The company anticipates that the cost restructuring program could save it approximately $36 million annually and on Wednesday said it expects to see the full impact of the restructuring activities in the third quarter.
Its Q1 net loss narrowed to $44.1 million, or a loss of $.14 per share, compared to a loss of $55.7 million, or a loss of $.22 per share, in the prior-year quarter.
London-based LumiraDx, which went public on the Nasdaq in 2021, had a cash balance of $68.1 million at the end of Q1.
"We continue to advance our three priorities, which include commercializing our product portfolio of top CE Mark tests in Europe and other international markets, progressing our U.S. revenue pipeline and 510(k) plan, accelerating the development of our high-sensitivity troponin and molecular assays on the platform, and reshaping our organization while lowering our cost base to support strong innovation and commercial success," Zwanziger said on a conference call to discuss the financial results.