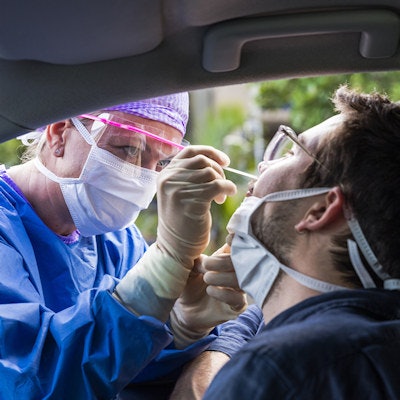 Diagnostic molecular testing is the bedrock of an effective global response to the COVID-19 pandemic, as well as future outbreaks. But regulatory and supply chain roadblocks need to be cleared so that clinical laboratories can better respond, according to a viewpoint published on October 29 in JAMA Health Forum.
Testing needs during the pandemic are wide ranging and in constant flux, especially with the emergence of multiple strains of SARS-CoV-2. In response, laboratory professionals across the U.S. have been "tirelessly working to provide critical testing during the pandemic but have faced regulatory missteps, staffing strains, and supply-chain shortages," wrote the authors, led by Dr. Eric Konnick.
Konnick is the co-chair of the Association for Molecular Pathology (AMP) Professional Relations Committee and associate director of the Genetics and Solid Tumor Laboratory at the University of Washington.
Diagnostic testing remains the foundation for effective responses to emerging pathogens, the authors noted.
"Timely diagnostic and epidemiological testing are foundational to an effective response to any emerging infectious disease," Dr. Karen Weck, former AMP president and a professor at the University of North Carolina Chapel Hill, said in a statement. "AMP is committed to expanding our leadership role, sharing our expertise, and providing strategic recommendations to improve the US pandemic response and ensure more patients can benefit from timely access to high-quality testing procedures."
FDA regulation delayed the U.S. response to COVID-19
The paper outlined some of the regulatory missteps that hindered the U.S. response to the COVID-19 pandemic.
The U.S. has an extensive network of clinical laboratories that routinely develop and implement laboratory-developed tests (LDTs), which are regulated under the CLIA program, administered by the U.S. Centers for Medicare and Medicaid Services.
However, in early 2020, the U.S. Food and Drug Administration (FDA) required CLIA-certified labs to obtain emergency use authorization before developing their own LDTs for COVID-19. As previously reported on LabPulse.com, this regulatory barrier prevented many expert molecular diagnostic laboratories from rapidly offering LDTs just when such testing was most needed.
"This [action] delayed an effective laboratory response in the U.S., which could have mitigated SARS-CoV-2 community spread weeks earlier," the authors noted.
The authors contrasted this regulatory stumble with the 2009 H1N1 influenza outbreak 10 years earlier, when laboratories were able to respond quickly by developing and deploying high-quality LDTs within the existing regulatory framework.
"To prepare for future pandemics, we must take advantage of the existing expertise and enable clinical laboratories to validate and offer robust clinical assays, rather than creating regulatory hurdles," the authors wrote.
Supply chain issues
Supply chain issues were another factor that contributed to delayed and degraded testing capacity during the COVID-19 pandemic, according to the authors.
"Global shutdowns and shipping delays during this pandemic exacerbated existing supply-chain issues, decreasing availability of reagents, pipette tips, plasticware, consumables, and instrumentation from virtually all manufacturers, resulting in delayed and/or decreased testing capacity," they wrote.
The severe effect on testing highlighted the presence of many points of supply chain vulnerability that need to be addressed at the highest levels when the next pandemic arrives.
"Early and better use of the Defense Production Act or similar support from the federal government is needed to ensure the supply chain is not disrupted," the authors wrote.
Furthermore, potential supply chain issues are another reason to encourage regulatory flexibility. For example, if only a handful of tests are authorized, this magnifies existing supply chain vulnerabilities related to those tests. However, given more flexibility, the extensive network of clinical labs in the U.S. can be harnessed to concurrently explore multiple testing regimes in the face of unpredictable circumstances.
Retaining flexibility and resourcefulness
Finally, it is essential that clinical laboratories retain flexibility and resourcefulness in their pandemic response, the authors stated. It is also necessary to ensure better collaboration and communication between public health and clinical laboratories and relevant government agencies to effectively leverage resources to support testing needs.
In addition to preparing for the next pandemic, the authors cited another reason to free clinical labs from ill-conceived regulations and supply chain vulnerabilities: to help them keep pace with the increasing demand for testing from a rapidly aging U.S. population. The number of people age 65 and older in the U.S. has grown from 35 million in 2000 to 52 million people in 2018, according to the U.S. Census Bureau, and this aging will translate into increased testing for cancer, genetic, and infectious diseases.
"Making the recommended key alterations to the collaborative, regulatory, and supply-chain aspects of clinical laboratory testing will enable our critical diagnostic capacity to better respond to future pandemics as well as to the expanded testing needs of an aging population," the authors concluded.