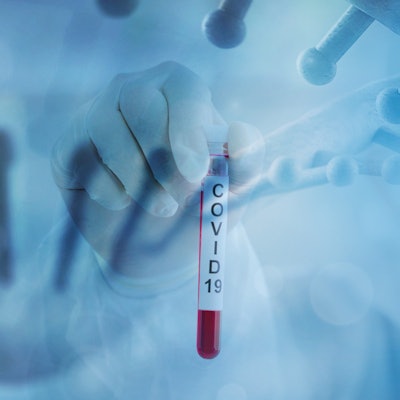 The U.S. Food and Drug Administration (FDA) is withdrawing a policy begun during the COVID-19 pandemic that allowed laboratory-developed tests (LDTs) to be marketed without undergoing normal regulatory review. The move is being viewed as an initiative by the FDA to tighten control of LDTs as testing supplies stabilize.
In a November 15 press release, the FDA said it was withdrawing its policy that directed the agency to not enforce premarket review requirements for LDTs. The agency said it was taking the action to "help ensure that COVID-19 tests are accurate and reliable."
The policy had been implemented early on in the COVID-19 pandemic, as regulators and healthcare providers struggled to provide enough tests to detect infection with SARS-CoV-2 and prevent outbreaks. The FDA at the time was stung by criticism that it was not moving fast enough to approve COVID-19 tests, and that red tape was hampering the response to the pandemic.
The FDA responded in March 2020 with a policy that allowed labs to develop and use their own tests merely by notifying the agency that they were shipping products. A few months later, the FDA strengthened its oversight by requiring the submission of an emergency use authorization (EUA) for diagnostic tests.
The new policy adds another layer of regulatory oversight and is a sign that the FDA is moving COVID-19 tests into a more normalized regulatory framework, similar to that used with other tests for infectious diseases. While the old policy was successful in getting more tests into the hands of providers, issues with test accuracy have risen to the fore, such as when Ellume was required to recall its home test for COVID-19 infection due to false-positive results.
On the other hand, the FDA noted the success of its past policies in meeting the requirements for COVID-19 testing during the public health emergency. Through November 2021, the FDA has authorized over 420 tests and sample collection devices for COVID-19, and the agency's recent authorizations alone could result in up to 400 million over-the-counter (OTC) tests available monthly in the U.S. by early 2022, the agency noted.
Under its new policy, the FDA said it would reserve the EUA process for the following:
At-home and point-of-care (POC) tests for use with and without a prescription that can be manufactured in large volumes
Tests including high-volume, lab-based molecular diagnostic tests that expand testing capacity such as through specimen pooling; tests in which specimens are collected at home and shipped to a lab; tests for screening asymptomatic people; and tests detecting multiple different types of respiratory viruses at once
Lab-based and POC high-volume antibody tests that measure the amount of antibodies, such as fully quantitative antibody tests, that measure neutralizing antibodies
Tests in which the request is from a U.S. government entity, such as the Biomedical Advanced Research and Development Authority (BARDA) or the U.S. National Institutes of Health's Rapid Acceleration of Diagnostics (RADx) initiative
Developers of tests other than those mentioned above can use traditional regulatory pathways, such as the 510(k) process or de novo classification.
The FDA's changes indicate that the agency is moving beyond the phase in which looser testing regulations were needed to boost supply, according to Bruce Carlson, senior vice president of publications at Kalorama Information. The market for COVID-19 testing has grown to become a $31.5 billion market in 2021, according to Kalorama's most recent report, "Worldwide In Vitro Diagnostics Market."
"Relaxed policies to encourage supply was the regulatory trend during the pandemic's most aggressive phase," Carlson said. "Test supply is not an issue in 2021 for most test types. Accuracy, especially on tests that are not in a regulated central lab, appears to be the focus of regulators now. The agency is indicating that it will use the EUA granting authority with an aim of providing more at-home test sample products and related lab-based capacity to coordinate with those products. For other more standard COVID-19 tests, they would appear to join the pathway for most IVD products such as hepatitis, HIV, or influenza."
Disclosure: LabPulse.com is a sister company of Kalorama Information.