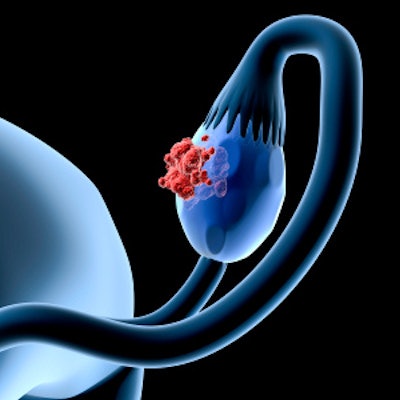 A blood test for 11 plasma proteins may help judge whether women have ovarian cancer, even in its early stages, potentially helping to avoid surgeries, researchers at Uppsala University and the University of Gothenburg in Sweden reported on June 20.
In a cohort of a study identifying biomarkers of interest and establishing proof of concept, the panel of 11 proteins had a positive predictive value of 92%, sensitivity of 85%, and specificity of 93% for detecting stage I to IV ovarian cancer. Dr. Ulf Gyllensten, a professor of medical molecular genetics in the department of immunology, genetics, and pathology at Uppsala University, and colleagues presented the results in the open access journal Communications Biology.
Success in short supply
The test was developed as a means of improving diagnostics and, consequently, outcomes for women with ovarian cancer. There has been much research into screening tests for ovarian cancer, but most have been unsuccessful, according to the American Cancer Society (ACS). Aside from pelvic exams, transvaginal ultrasound and the cancer antigen 125 (CA-125) blood test are used, but both have important limitations, the ACS noted.
Transvaginal ultrasound can't distinguish between benign and cancerous masses, and CA-125, also known as mucin 16, is more useful for women who have ovarian cancer to monitor treatment response rather than for screening. Consequently, only about one-fifth of ovarian cancers are diagnosed at an early stage when they could be treated effectively, according to the ACS.
After a mass is detected on ultrasound, women may be operated on unnecessarily because there is no test specific enough for screening, the Swedish researchers wrote. Testing for mucin 16 and other biomarkers such as human epididymis protein 4 (HE4) can help in the evaluation of women with stage III or IV cancers, but "low sensitivity for detection of early-stage ovarian cancer still prohibits population screening using current biomarker tests," Gyllensten et al wrote.
Tests with low specificity have a high false-positive rate, resulting in "unnecessary anxiety and examinations," as well as additional costs for healthcare systems; currently, biomarker testing is mostly done in women with symptoms, the authors noted.
Outlining the selection process
The researchers outlined the process for developing their test in Communications Biology. They examined circulating plasma levels of 593 proteins in women with benign conditions and those with ovarian cancer.
"We started from a large number of plasma proteins, not selected based on prior association with ovarian cancer, utilizing high-throughput multiplexed proteomics assays," Gyllensten and colleagues wrote.
This led to the selection of 11 biomarkers as a signature for a multiplex proximity extension assay (PEA) test. In addition to mucin 16 and HE4, they include tumor-associated calcium signal transducer 2 (TACSTD2), which the authors noted has previously been flagged as a marker for poor outcomes in ovarian cancer.
The results to date suggest the biomarker signature is suitable for detecting early-stage disease, the group concluded. The test is being developed in collaboration with the Swedish life science firm Olink Proteomics, which was recently acquired by Stockholm-based Summa Equity. A large-scale study of samples from all hospitals in the western region of Sweden is underway.