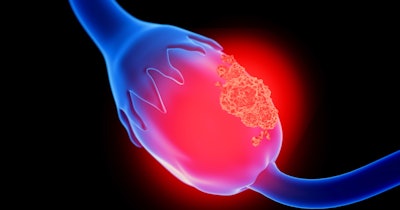 Aspira Women's Health on Thursday announced that it has signed an exclusive licensing agreement with the Dana-Farber Cancer Institute (DFCI) to develop a new noninvasive microRNA-based ovarian cancer test.
Financial and other terms of the agreement were not disclosed.
This agreement is in addition to a sponsored research agreement between Aspira and a consortium led by DFCI for the development of a noninvasive diagnostic test for endometriosis that uses circulating microRNAs and proteins.
The new test will use a proprietary DFCI microRNA ovarian cancer signature in conjunction with Aspira's proprietary artificial intelligence/machine learning algorithms to identify ovarian cancer in patients with adnexal masses.
The test will be offered to healthcare providers as an expansion of Aspira's OvaSuite portfolio.
"Diagnosing ovarian cancer at its earliest stages is crucial to improving survival outcomes," Dr. Ryan Phan, Aspira's chief scientific and operating officer, said in a statement. "MicroRNA offers tremendous opportunity to make this a reality as it appears earlier compared with other testing targets, like circulating tumor cells or proteins."