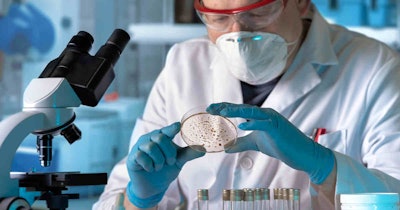 Medical technology company Becton Dickinson (BD) has introduced a new, robotic track system for its BD Kiestra microbiology laboratory solution. The offering automates lab specimen processing and could help to reduce manual labor and wait time for results.
The BD Kiestra 3rd Generation Total Lab Automation System allows laboratories to create a custom and flexible total lab automation configuration to connect multiple BD Kiestra modules. It's scalable and labs can choose their automation entry point and configure the system to fit their individual workflow and physical lab space, the firm said in a statement.
"The track-based configuration options are designed to eliminate the manual sorting of plates and walking the specimen from module to module, which helps to ensure culture integrity and results in streamlined workflows," said Cecilia Soriano, vice president and general manager of microbiology for BD. "The modular tracks use a sophisticated robotic highway on/off ramp design to help eliminate bottlenecks, traffic jams, and plate collisions."
Workflow can be fully automated, whether for routine specimen inoculation processes or advanced incubation. Each step of the lab's diagnostic pathway is traceable and powered by the BD Synapsys informatics solution, so workflows are integrated and insights are available on-demand, BD said.
Previously, the company announced the U.S. launch of a urine culture application for use with its Kiestra lab automation incubation and imaging system. The urine culture application automatically organizes specimens into meaningful worklists driven by user-defined expert rules for critical criteria, such as high-risk patients or complex specimens.