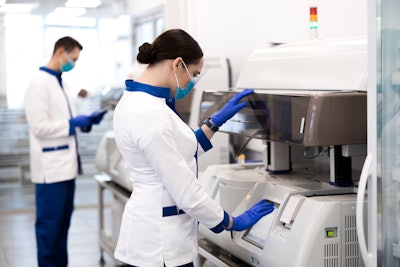 Agilent Technologies on Friday announced the introduction of an end-to-end digital pathology workflow solution, which incorporates products from Agilent, Visiopharm, Proscia, and Hamamatsu Photonics.
The announcement coincides with the United States and Canadian Academy of Pathology (USCAP) 112th Annual Meeting being held from March 11 to March 16 in New Orleans; USCAP attendees can learn more about the new digital pathology workflow system at the Agilent booth.
In a statement, Agilent explained that the workflow-system collaboration emerged from the increasingly widespread adoption of digital pathology, driven by the time- and cost-saving benefits and efficiency of digital pathology solutions over traditional diagnostics, advances in the field, and the increasing prevalence of chronic conditions requiring management.
"Our objective was to work with industry innovators, starting with Visiopharm as our initial partner. We ... have expanded our offering through the addition of two other partners, Proscia and Hamamatsu, in this fast-growing digital pathology space," Lou Welebob, vice president and general manager of Agilent's Pathology Division, Diagnostics and Genomics Group, said in a statement.