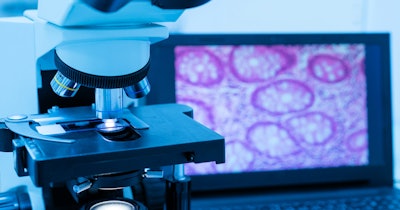 Fujifilm Healthcare Americas said Friday it will debut Synapse Pathology, its newly acquired and branded digital pathology solution, at the 2023 Healthcare Information and Management Systems Society (HIMSS) annual meeting to be held in Chicago from April 17 to April 21.
Synapse Pathology is an open, vendor-agnostic, end-to-end solution designed for medical facilities that handle large volumes of pathology images and data in multiple locations. The system delivers digital images for diagnosis 1.7 hours faster than glass slides, and facilitates instant sharing of patient cases with subspecialists to enhance cross-departmental collaboration and diagnostic efficiency, Fujifilm said.
The software uses whole-slide images from multiple scanning vendors to create a straightforward direction for pathology digitization across laboratories, Fujifilm said, adding that such digitization allows labs to realize the benefits of faster patient results, centralized imaging records, and enterprise access to images for clinicians.
The product stems from the acquisition of Dynamyx, the digital pathology business of Inspirata, which was announced in December.