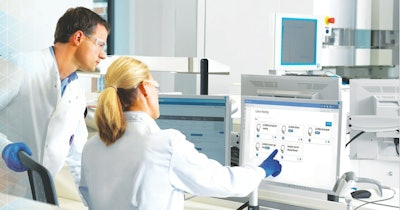 The U.S. Food and Drug Administration (FDA) has granted 510(k) clearance for the BD Kiestra methicillin-resistant Staphylococcus aureus (MRSA) imaging software that uses artificial intelligence (AI) to interpret bacterial growth, Becton Dickinson, the product developer, said Tuesday.
The BD Kiestra MRSA imaging application enables microbiology laboratory efficiency and improves workflow, according to Franklin Lakes, NJ-based Becton Dickinson.
The application leverages AI to automate the traditionally labor- and time-intensive task of inspecting Petri dishes to determine if there is bacterial growth; with the BD AI application, medical lab scientists and technicians can spend more time on higher-value analysis.
Technicians can use the MRSA imaging software to evaluate single specimens or large volumes of plates with nonsignificant growth; they can also release negative results, which reduces administrative burden, Becton Dickinson said.
"The pandemic created significant and ongoing labor challenges in laboratories, and reading plates is a labor-intense, potentially error-prone process in microbiology," Nikos Pavlidis, vice president and general manager for diagnostics at BD, said in a statement. "The use of this imaging application to automatically organize specimens in meaningful worklists helps use limited laboratory staff more efficiently and allows lab personnel to bring their expertise to bear on more critical and complex specimens."