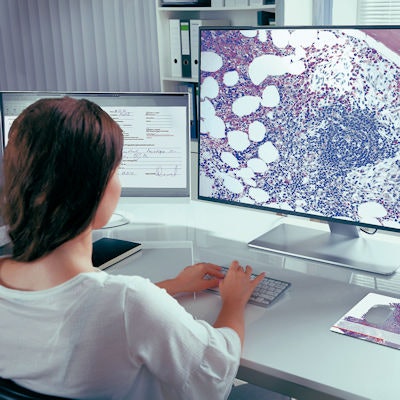 The COVID-19 crisis is giving a boost to telepathology. Transitioning from reading pathology slides on a microscope to reading them electronically on a monitor requires addressing a number of issues including connectivity, system validation, and cost. And, it's important to plan ahead.
The effort to transition to a digital workflow and telepathology started in 2014 at the University of California, San Francisco School of Medicine, explained Dr. Zoltan Laszik, professor of clinical pathology and director of digital pathology. The university operates three hospitals and a lab with a staff of approximately 50 pathologists.
"Our digital workflow was fully up and running on March 18, as the COVID-19 outbreak was growing," Laszik said in an interview. "The system uses five scanners, at a cost of about $250,000 each, a high-speed network, and has extensive storage capabilities."
The lab currently processes about 400,000 slides annually, with each image being about 4 GB in size. It took about a year to integrate imaging management software with the lab's laboratory information system, which was important for its success, Laszik indicated.
"Even though we haven't had any COVID-19 cases, some pathologists opted to work remotely at home for their safety. Our digital pathology system allowed them to do that at no cost to them," Laszik said.
They have been able to use a university-validated laptop, a virtual private network (VPN) connection, and a high-resolution consumer monitor. The university's digital platform also has paved the way to use telepathology for consultations and tumor boards, according to Laszik.
Addressing challenges
Dr. Jesus Chavez, in the department of pathology at the Ohio State University in Columbus, OH, has found generally positive experiences using telepathology, with many pathologists able to make a diagnosis just as exact as they could with their microscope.
"Yes, the quality is just as good as the microscope. But there are a few limitations, for example the ability to see the third dimension in cytology, 100 times magnification in hematopathology, and any diagnosis of microorganisms being present," he explained in an email.
Chavez himself is working remotely at home and performing digital sign-out.
For Chavez, the biggest challenge is not having two screens, an ergonomic mouse and pad, and his computer directly connected to the modem through an Ethernet cable, but he's trying to correct that situation. Connectivity is especially important when working on major resection cases, he added.
For remote work, Chavez and fellow Ohio State pathologist Dr. Giovanni Lujan indicated that a pathologist must have a personal desktop computer or laptop with an internet connection, a monitor, and a VPN connection to the department slide archive.
For remote work at Ohio State, computers and monitors usually are personally owned. All of the necessary orientation as well as technical support are provided by the IT team.
"We are currently doing a minivalidation using a web tool to check a pathologist's monitor and display quality to make sure the minimal specifications are met," Chavez said.
The transition isn't without its downsides.
"The workflow is a little more efficient in the hospital since the network is faster, ergonomic mice are available, as well as two [computer] screens," Chavez said. "It is easier to reach out to others and collaborate in real-time. But because of the COVID-19 pandemic, having the option to stay at home makes people feel safer."
Software for smaller pathology groups
Geared toward smaller pathology groups, Smart In Media, of Cologne, Germany, has made available its PathoZoom diagnostic and instructional software for sharing pathology slides in remote work settings. The software allows pathologists to bring their laboratory home via smartphone, tablet, or laptop while taking all data protection and professional practice rules into account, Dr. Martin Weihrauch, managing director, head of product development, and co-developer of the software, said in an interview.
The initial motivation was to enable pathologists to work more flexibly. But the COVID-19 pandemic has given PathoZoom a new dimension. Besides enabling pathologists to work remotely, clinics and institutes can use it to hold tumor boards through video conferencing or to diagnose preparations via telemedicine, according to the company.
The software, which is available worldwide through a license, enables pathologists to digitize slides remotely. It's possible to broadcast the image directly from a remote microscope to colleagues simultaneously over the internet or using a practice's internal network, according to Weihrauch.
"Most pathologists have become open to digitization as the wave of the future," he noted.
In another noteworthy development, on April 1, Sectra received 510(k) clearance from the U.S. Food and Drug Administration (FDA) for the Sectra Digital Pathology Module, the key component of Sectra's pathology solution, when used together with Leica Biosystems' Aperio AT2 DX scanner. This enables providers to use Sectra's digital pathology solution for primary diagnostics. The solution makes it possible to move toward fully integrated diagnostics, which is especially important in complex cancer cases.
On April 3, Leica Biosystems received notification from the FDA that its Aperio ImageScope DX viewer with images acquired on the Aperio AT2 DX scanner can be used for remote diagnosis under emergency use authorization. This application enables pathologists to view and diagnose cases from remote locations in response to the COVID-19 pandemic, according to the company.