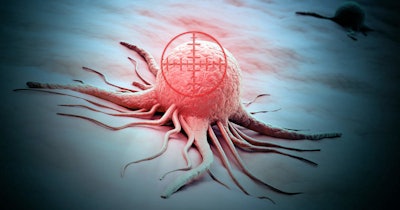 Genomics company Illumina has announced a new generation of its distributed liquid biopsy assay for the genomic profiling of solid tumors.
The San Diego-based firm said in a statement that the potential benefits of the TruSight Oncology 500 (TSO 500) ctDNA v2 assay include faster molecular analysis, greater analytical sensitivity, and a more streamlined workflow.
The research-use-only assay is designed to enable comprehensive genomic profiling (CGP) of circulating tumor DNA (ctDNA) from blood when tissue testing is not available, or to complement tissue-based testing. It uses cell-free DNA from liquid biopsy samples to identify key variants critical for cancer development and progression and is similar in content and design to the tissue-based assay TSO 500.
"Leading cancer centers are increasingly adopting the use of liquid-biopsy-based CGP, and with the TSO 500 ctDNA v2 assay we've aimed to make it easier for customers to integrate and enable deeper insights for cancer research," Kevin Keegan, Illumina's general manager of Oncology, said in a statement.
Illumina said library preparation has been reduced to a single day while a single hybridization step has cut total turnaround time down to less than four days compared with one week or more for most ctDNA CGP assays. The firm also cited "higher sensitivity with lower cell-free DNA (cfDNA) input requirements."
Automation-enabled kits will become available in the first half of 2024, according to Illumina. Nine institutions are participating in Illumina's "global early-access customer program" to trial TSO 500 ctDNA v2.
Giancarlo Pruneri, professor of pathology at the University of Milan School of Medicine and chair of the department of pathology and laboratory medicine at the National Cancer Institute of Milan, said that the "increased assay sensitivity" shown in preliminary testing of the new version of the TSO500 ctDNA panel in the institute's labs would potentially broaden the utility of liquid biopsy testing.