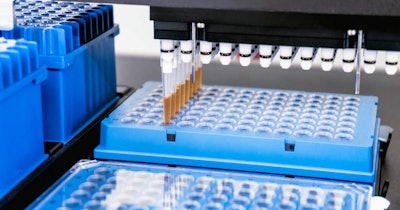 Douglas Bryant and Chris Smith became even more serious about combining Quidel and OrthoClinical Diagnostics when they saw the potential for Savannah, a multiplex real-time polymerase chain reaction (PCR) testing platform, in the hands of 2,800 sales and customer service professionals.
"I think it's one of the key reasons that we put the two companies together," QuidelOrtho CEO Bryant said on Monday during a presentation at the 41st Annual J.P. Morgan Healthcare Conference (JPM) in San Francisco.
Last May, Quidel completed the acquisition of Ortho Clinical Diagnostics, resulting in QuidelOrtho, and on Friday, the firm announced preliminary revenues for the fourth quarter of 2022, saying it expects to book between $853 million and $868 million.
Smith, Ortho's CEO prior to the acquisition, is a board member in the new company. After the acquisition was announced, he and his colleagues said they expected it to yield $100 million in revenue synergies by the end of fiscal 2025, including a significant contribution from Savannah.
QuidelOrtho noted in a slide presentation at JPM that Savannah, one of many instruments, offers sample-to-result infectious disease testing for physician's offices, small clinics, and hospitals, providing results in less than 25 minutes with a small footprint.
Overall, the company markets tests based on clinical chemistry and immunoassay technologies, in addition to molecular diagnostics, with installations at the point of care and in clinical laboratories.
"We believe that Savannah is indeed a highly differentiated product," Bryant said. "We've demonstrated in Europe and elsewhere that there is demand. We see strong interest expressed by U.S. customers as well for this product."
The company launched Savannah in the EU last April at the European Congress of Clinical Microbiology & Infectious Diseases 2022 (ECCMID 2022). A U.S. rollout is part of numerous product launches expected in the near term.
In the U.S., the panel running on the instrument would provide simultaneous, qualitative detection and differentiation of influenza A, influenza B, respiratory syncytial virus, and SARS-CoV-2 RNA isolated from human nasal or nasopharyngeal swabs. Herpes simplex virus and varicella-zoster virus testing is also part of the planned menu.
The instrument pushes "testing where the lab supervisors and the big integrated delivery networks want testing to be done, [and] this allows them the flexibility to do it," Bryant said.
QuidelOrtho expects to book $2.6 billion in 2022 revenues on top of revenues from its COVID-19 testing products. The firm estimates its COVID-19-related revenues will be around $1.5 billion.
In its presentation at JPM, Bryant pointed to a total addressable market of $48 billion and an overall estimated installed base of 100,000 instruments.