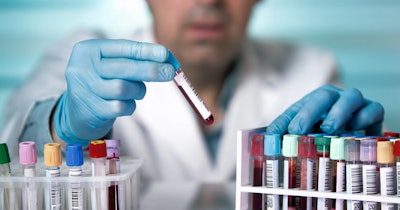 Siemens Healthineers on Tuesday introduced two high-volume hematology test systems, the Atellica Hema 570 Analyzer and the Atellica Hema 580 Analyzer, saying it will unveil them at at EuroMedLab 2023 in Rome from May 21 to May 25.
The products, which are not cleared for marketing in the U.S., enable integrated automation and intelligence in the lab, removing barriers to workflow efficiency and speeding up testing results, the firm said.
The analyzers perform complete blood counts (CBC), which often provide the first indication of illness and are among the most performed diagnostic tests in the laboratory.
Traditionally, hematology testing is complex, time-sensitive, and requires experienced laboratory staff to evaluate results before physicians receive them. Broad use of CBC testing and increasing staff shortages affect the lab's ability to rapidly review and release patients' test results, Siemens Healthineers noted.
The most vulnerable patients — oncology, renal, and neonatal, for example — require hematology testing to monitor progress and inform care; small variations in results can be critical if not flagged, or if incorrectly interpreted.
Siemens Healthineers said that its new hematology analyzers leverage advanced data management to mitigate the expertise gap, enabling staff of any skill level to interpret results.
"We hear from labs that they need agility, reliability, and speed," Sharon Bracken, head of diagnostics at Siemens Healthineers, said in a statement. "The Atellica Hema analyzers combine workflow improvements with demonstrated technology to bring hematology testing into the future."
Turnaround time expectations for routine CBCs in hospital or critical care settings are often one hour or less, but for STAT testing target turnaround times ideally need to be less than 10 minutes. The Atellica analyzers can run up to 120 tests per hour, Siemens Healthineers added.
Earlier this month, the firm announced an agreement to distribute Scopio Labs' full-field digital cell morphology technology. Its second quarter diagnostics revenues fell 39% due to a year-on-year decline in demand for COVID-19 antigen tests, but the firm is seeing a return to the low- to mid-single-digit growth in its core diagnostics businesses, Bracken said recently.