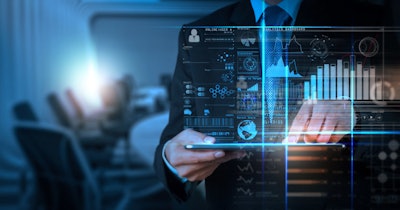 QuidelOrtho on Wednesday reported first-quarter revenue of $846.1 million, a drop of 15% from $1 billion in Q1 2022 and in line with preliminary revenue estimates announced in April.
The San Diego-based firm beat analysts' average estimate of $794.1 million.
For the quarter ended April 2, earnings per share (EPS) decreased to $0.73 from $11.31 for the first quarter of 2022. The first-quarter 2023 results included significant one-time charges related to the integration of Quidel and Ortho Clinical Diagnostics. Quidel completed the acquisition of Raritan, NJ-based Ortho last May.
In addition to the Q1 financial results filed according to GAAP accounting principles, QuidelOrtho also provided supplemental combined first-quarter 2022 revenues and adjusted operating results as if Quidel and Ortho had been combined for the applicable periods.
Based on supplemental combined information, first-quarter 2023 total revenue of $846.1 million fell 44% on a constant currency basis from $1.5 billion for the first quarter of 2022.
On a supplemental combined basis, first-quarter respiratory testing revenue, including COVID-19 test sales, fell 72% year-over-year to $265.6 million from $947.3 million. Non-respiratory testing revenue rose 5% year-over-year to $580.5 million from $555.1 million.
By main business area on a supplemental combined basis, first-quarter Labs revenue rose 9% year-over-year to $370.7 million from $339.7 million; Transfusion Medicine revenue fell 10% year-over-year to $155.9 million from $173.7 million; Point-of-Care revenue fell 67% year-over-year to $308.1 million from $943 million; and Molecular Diagnostics revenue dropped 75% year-over-year to $11.4 million from $46 million.
"The strength of our Labs business was particularly notable, with solid demand for both consumables and instruments, including standalone and integrated, as well as automation, setting us up for a stronger second half of the year," Douglas Bryant, president and CEO of QuidelOrtho, said in a statement.
He said the business integration is on track and the company can achieve "high-single-digit growth over the coming years."
At the end of the quarter, QuidelOrtho had cash and cash equivalents of $353.9 million and marketable securities of $42.8 million.