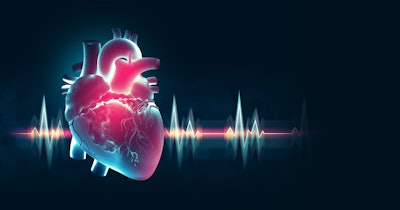 Cardio Diagnostics Holdings on Tuesday announced the launch of PrecisionCHD, an integrated epigenetic-genetic blood test for the early detection of coronary heart disease.
The Chicago-based firm said PrecisionCHD is the second clinical test that uses its artificial intelligence (AI)-enabled Integrated Epigenetic-Genetic Engine.
Its initial product, Epi+Gen CHD, launched in 2021, is a three-year coronary heart disease risk assessment test.
The two tests evaluate coronary heart disease, the most common form of cardiovascular disease, assessing risk for prevention as well as early detection.
Over the next two years, Cardio Diagnostics expects to continue to leverage its AI-based technology to develop a series of integrated epigenetic-genetic clinical tests for other cardiovascular diseases and associated conditions.
PrecisionCHD detects coronary heart disease with greater than 75% sensitivity in both men and women, according to Cardio Diagnostics.
The test uses epigenetic (DNA methylation) and genetic (single nucleotide polymorphism) biomarkers with a machine-learning model developed by analyzing billions of genomic and epigenomic data points.
The technology is combined with a clinical intelligence platform that maps a patient's unique biomarker profile to modifiable risk factors such as diabetes, hypertension, hypercholesterolemia, and smoking -- critical drivers of coronary heart disease.
"Clinicians seeking to assess coronary heart disease status in their patients no longer have to worry about their ability to obtain an exercise stress test or angiogram," Dr. Robert Philibert, Cardio Diagnostics' chief medical officer and co-founder, said in a statement. "Now, clinicians can have a blood sample drawn in their office or a kit sent to their patient's home for this highly sensitive test."
PrecisionCHD will be made available exclusively to the firm's current customers. A nationwide roll-out is expected soon. Cardio Diagnostics said it will showcase the test at the American College of Cardiology's 72nd Annual Scientific Session (ACC.23), held in New Orleans from March 4 to 6.