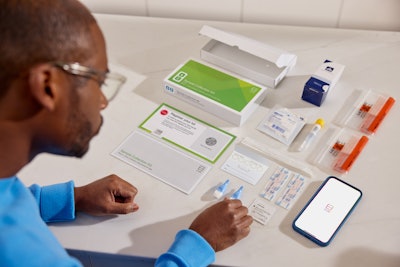 Cue Health on Monday announced it has launched a suite of diagnostic test kits, providing access to accurate, reliable testing from their own homes and making it easier for people to take control of their health.
The company provides personalized care and access to treatment, including e-prescriptions and medication delivery, from the privacy of home. The new kits are integrated into Cue Care -- the company's innovative test-to-treat service. Each at-home test kit includes the supplies needed for safe, easy, and private sample collection, Cue Health said.
After the sample is sent to and processed by an independent, CLIA-certified laboratory, results are securely delivered to the customer in the Cue Health App, along with information about the medical condition or concern. Customers can then choose to use Cue Care to consult virtually with a healthcare provider and receive personalized care and, if appropriate, treatment.
The following Cue Health test kits are now available, with more planned over time:
Heart Health Test Kits
Heart Health Panel
Cardiac Risk Apo A+B Test
Sexual Health Test Kits
Chlamydia and Gonorrhea
Herpes Panel
Men's Sexual Health Panel
Women's Sexual Health Panel
Women's Health Test Kits
Women's Fertility Panel
Women's Health Panel
Metabolic Health Test Kits
Wellness Test Kits
Food Sensitivity Panel
Colon Cancer Screening
Vitamin D Test