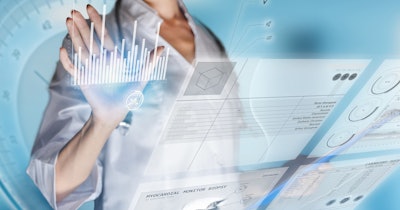 Roche on Tuesday said that it will showcase its Navify Algorithm Suite, a single platform that hosts a library of digital medical algorithms, at the HIMSS Global Conference in Chicago from April 17 to April 21.
The platform's medical algorithms generate patient-centric insights and can aid earlier diagnosis of cancer and other conditions per intended use, Roche said.
Physicians use these medical algorithms, which are evidence-based decision-making tools, in the diagnosis, treatment, and monitoring of patients. The algorithms increase early diagnosis and adherence to guidelines, Roche said.
"As healthcare data is set to grow, digital medical algorithms can generate actionable insights which physicians can use to start delivering on the promise of personalized healthcare," Moritz Hartmann, global head of Roche Information Solutions at Roche Diagnostics, said in a statement. "With Navify Algorithm Suite, clinicians can easily order the medical algorithms they need from Roche and other providers to get enhanced insights that improve patient care."
The Navify platform is designed to be embedded in current healthcare workflows and the lab or hospital information system (LIS/HIS) and/or the EHR/EMR (electronic health/medical record).
Last November, at the HLTH 2022 annual meeting in Las Vegas, Roche introduced the Navify brand as part of its digital health portfolio, which includes more than 30 digital solutions for labs, hospitals, and patients.