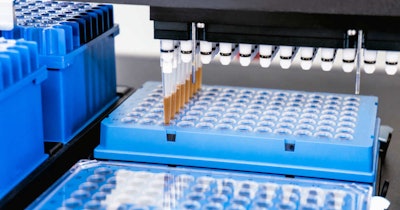 Thermo Fisher Scientific this week announced that its Applied Biosystems business has introduced the TaqMan 2.5X Lyo-Ready 1-step qPCR Master Mix with excipient, an optimized, ready-to-use formulation for a lyophilization process.
Individuals who are new to lyophilization may struggle to find a suitable excipient and protocol for their qPCR-based assays, Thermo Fisher said.
The TaqMan Lyo-Ready Master Mixes are optimized for consistent performance prior to and following lyophilization and include guidelines to support molecular diagnostic kit manufacturers, the firm added.
"The lyophilization phase can be a challenging part of any workflow to navigate, even for those with experience," Kathy Latham, senior director of qPCR Reagents at Thermo Fisher, said in a statement. "Our Lyo-Ready Master Mixes take the guesswork out of choosing an excipient and provide consistent performance."
"We believe this will help our customers shorten the path from an idea to a commercial lyophilized product," Latham added.