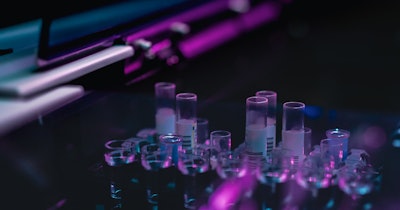 Beckman Coulter Diagnostics said last week that it designed its new DxI 9000 Access Immunoassay Analyzer to address some of the toughest ongoing challenges in the in vitro diagnostics space.
"It's been built from the ground up," Kathleen Orland, senior vice president and general manager of the clinical chemistry and immunoassay business unit at Beckman Coulter Diagnostics, said during an online press conference on Wednesday. "We all know labs are busier than ever facing staff shortages, skill shortages, and also testing surges."
The Brea, CA-based company, part of Danaher, is making the high-throughput analyzer available in most countries worldwide, including in the U.S. with Food and Drug Administration (FDA) clearance, and Europe and elsewhere with the CE Mark under the In Vitro Diagnostic Regulation (IVDR).
"Since the onset of the pandemic, labs are facing higher testing volumes with some seeing increases of 400% to 500% over their pre-pandemic testing levels," Orland said. "From a cumulative global perspective, laboratory testing volumes are sustaining 150% of pre-COVID levels. This trend is likely to continue for the foreseeable future."
Additionally, the IVD industry is facing upcoming retirements of clinical laboratory professionals. In some countries, more than half of these healthcare professionals are expected to retire in the next 15 years, Orland noted.
"With the return of routine testing previously deferred from the pandemic, already overburdened laboratorians are facing an even higher demand, making time and reliable reporting an increasingly precious assets," Orland added.
Beckman Coulter noted that it is launching the analyzer to address demands for speed, reliability, reproducibility, quality, and menu expansion. The test system is expected to "create time so that laboratorians can focus on what matters most while optimizing healthcare," Orland said.
Christian Medical College (CMC), Vellore, a medical school, hospital, and research institute in Tamil Nadu, India, used the analyzer as part of a limited launch of the product. The hospital runs about 50,000 to 60,000 tests per day.
Among the analyzer's standout features were the requirements for no daily maintenance and 10 minutes weekly and monthly maintenance, said Dr. Pamela Christudoss, head of the department of clinical biochemistry at Christian Medical College.
According to Beckman Coulter, its immunoassay analyzer can run up to 215 tests per hour per square meter. A PrecisionVision feature consists of automated safeguards include tube identification, cap detection, tip check, sample aspiration and delivery, residual wash volume, and substrate volume.
A built-in camera enables "troubleshooting, which identifies and prevents erroneous reporting in real time with seven automated safeguards, thus giving more confidence in reporting patient results," Christudoss added.