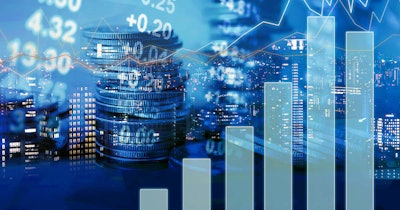 Guardant Health on Thursday reported fourth quarter revenue of $126.9 million, an increase of 17% over Q4 2021.
Shares of the Palo Alto, CA-based precision oncology company rose more than 10% to $28.50 in Friday afternoon trading on the Nasdaq.
For the quarter ended December 31, the firm reported 36,000 tests to clinical customers and 8,200 tests to biopharmaceutical customers, representing an increase of 41% and 24%, respectively, over the fourth quarter of 2021.
"We achieved record revenues and volumes during the year, launched new offerings in minimal residual disease with multi-cancer Reveal and expanded market access for our tests," Helmy Eltoukhy, co-founder and co-CEO of Guardant Health, said in a statement. "We also launched our Smart liquid biopsy platform, which we believe will drive the next chapter of growth for our oncology business and enable significant R&D efficiency and operating leverage. With the approval of our first companion diagnostic in breast cancer and expanded payor coverage, we are poised for continued strong growth in the year ahead."
Among recent business highlights, the company noted that its Shield blood test for colorectal cancer detection demonstrated 83% sensitivity and 90% specificity in the pivotal ECLIPSE study. The firm recently announced U.S. Food and Drug Administration (FDA) approval for its Guardant360 CDx as a companion diagnostic test with Orserdu for the treatment of patients with ESR1 mutations in ER+, HER2- advanced or metastatic breast cancer.
It has also obtained coverage for Guardant360 CDx tests in lung and breast cancer from United Healthcare, and introduced the Guardant Galaxy suite of advanced artificial intelligence (AI) analytics in partnership with Lunit. The collaboration aims to enhance Guardant's portfolio of cancer tests starting with the Guardant360 TissueNext PD-L1 test, which has been shown to improve biomarker detection by greater than 20% in non-small cell lung cancer (NSCLC), the firm said.
The firm's Q4 net loss widened to $139.9 million, or a loss of $1.36 per share, compared with $90.9 million, or a loss of $.89 per share, for the prior-year period. Its adjusted net loss per share was $1.17.
For full-year 2022, the company booked revenue of $449.5 million, up 20% over full-year 2021. Guardant reported 124,800 tests to clinical customers and 26,000 tests to biopharmaceutical customers, representing an increase of 42% and 40%, respectively, over full-year 2021.
At the end of Q4, the company had cash and cash equivalents of $141.6 million and short-term marketable debt securities of $869.6 million.
Guardant Health expects full-year 2023 revenue to be $525 million to $540 million, representing growth of 17% to 20% compared to full-year 2022.