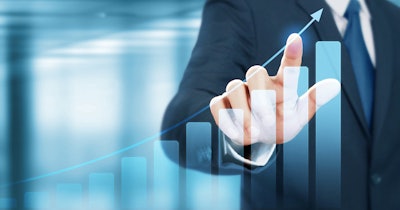 QuidelOrtho on Wednesday provided revenue guidance, saying it expects to book $2.8 billion to $3.1 billion in 2023 as COVID-19 becomes endemic.
The firm also reported fourth-quarter 2022 revenue of $866.5 million, up 36% from $636.9 million in Q4 2021, and full-year 2022 revenue of $3.27 billion, an increase of 92% compared with $1.70 billion in 2021.
For the quarter ended December 31, revenue growth was largely due to the consummation of the business combination of Quidel and Ortho Clinical Diagnostics in May last year.
The firm also provided supplemental, combined fourth-quarter revenues, as if Quidel and Ortho had been combined for the applicable periods in 2021 and 2022.
On that basis, overall Q4 2022 revenue of $866.5 million decreased 25% compared with $1.16 billion for Q4 2021. Year-over-year, Q4 Labs revenue of $314.7 million declined 13%, Transfusion Medicine revenue of $162.5 million fell 4%, Point-of-Care revenue of $374.7 million dropped 35%, and Molecular Diagnostics revenue of $14.6 million fell 71%.
On a supplemental combined basis, the firm booked full-year 2022 revenue of $4.05 billion, up 8% compared with $3.74 billion in 2021.
"In the quarter and for the full year on a supplemental combined basis, revenue excluding COVID revenue grew 19% and 11% respectively versus the prior-year periods, driven by strength in our Point-of-Care and Molecular Diagnostics businesses, and an early and pronounced respiratory season that was marked by higher than typical influenza and respiratory syncytial virus prevalence rates," Douglas Bryant, president and CEO of QuidelOrtho, said during a conference call to discuss the financial results.
During the recently completed quarter, revenue growth was offset partly by weakness in clinical chemistry and immunoassay revenue in China due to COVID-19-related lockdowns.
"Overall, the newly combined organization performed well," Bryant said. "It was a solid quarter and a good back half of the year, which bodes well for an increasing revenue growth trajectory over the next few years."
He noted that the firm sees three important near-term growth drivers: in 2023, it will maintain an acute focus on its Sophia, Savannah, and Vitro systems and product lines.
More than 85,000 Sophia instruments, a small benchtop analyzer, are already installed worldwide, Bryant noted.
In the U.S. more than 77,000 of the instruments are on multi-year contracts, and most of the contracts include multiple test products, he said.
Roughly 50% of the instruments installed in the U.S. are in physician office laboratories, about 23% are in hospitals, about 17% are in urgent care centers, and about 10% are in corporate settings, Bryant added.
In 2022, the number of U.S. customers for its Sofia instruments rose 6% year-over-year to around 21,400, he said, adding that the total number of customers purchasing its rapid antigen tests to detect respiratory diseases, including Quickview, is more than 72,000 on a year-end, trailing 12-month basis.
Looking ahead to 2023, revenues excluding respiratory sales are expected to grow by 4% to 6% from $2.21 billion to $2.25 billion on a constant currency basis, Joseph Busky, the firm's CFO, said on the conference call.
In 2023, the company anticipates total respiratory-test revenue of $610 million to $875 million, a significant decline compared with supplemental combined total company respiratory revenue of $1.8 billion booked in 2022. Of the total respiratory revenue, it expects COVID-19 revenue of $300 million to $500 million, rapid influenza test revenue of $230 million to $270 million, and other respiratory revenue of $80 million to $105 million.
In the year ahead, "there may be [pandemic-related] spikes and no one really knows for sure," Busky said. "We assume COVID-19 transitions to an endemic state similar to other seasonal respiratory viruses, and we plan to bucket it with those other respiratory viruses in [2023 and going forward]."
He noted that the firm recently closed two important U.S. government contracts. One, for the Quickview at-home COVID-19 test, provides an expected value of $54 million and a maximum order value of $108 million. The company shipped a few million of the tests in Q4 and expects to ship the remaining tests in an initial $54 million order primarily in Q1.
The second contract is valued at approximately $97 million; the company expects to ship most of the products in Q1 this year.
Looking ahead, "inflation and global supply chain disruptions continue to be a challenge," Busky said. "However, we are seeing greater access to semiconductor chips and expect challenges to further ease as we move through the year."
At the end of the quarter, QuidelOrtho had cash and cash equivalents of $292.9 million and marketable securities of $52.1 million.