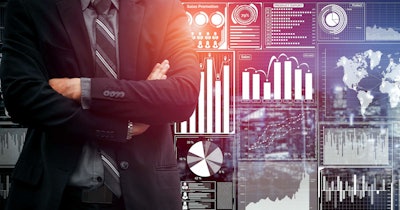 Abbott Chairman and CEO Robert Ford on Wednesday said he sees an easing of challenges impacting the company's businesses at the start of 2023 and anticipates organic sales growth this year in the high single digits, excluding COVID-19 testing sales.
The Abbott Park, IL-based company reported fourth-quarter sales of $10.1 billion, a year-over-year drop of 12% on a reported basis and 6.1% on an organic basis, though it beat analysts' average estimate of $9.67 billion.
Abbott's fourth-quarter revenues were negatively impacted by a year-over-year decline in COVID-19 testing-related sales. Worldwide, COVID-19 testing sales were $1.07 billion compared with $2.32 billion in the fourth quarter of 2021.
Rapid testing platforms, which represented approximately 95% of the COVID-19 product sales in the recently completed quarter, consist of the BinaxNow antigen test in the U.S., the Panbio antigen test marketed outside the U.S., and the ID-Now molecular test sold globally.
Excluding COVID-19 testing-related sales, fourth-quarter company sales decreased 1.4% on a reported basis and increased 5.4% on an organic basis.
"Macro business conditions have been highly dynamic and challenging for the last few years, particularly for U.S.-based multinational companies," Ford said during a conference call discussing the firm's financial results.
Ford noted that the COVID-19 pandemic played an important role in the business environment, along with the strengthening of the U.S. dollar and inflation, which reached new heights last year.
"Supply chains continued to face challenges, and our healthcare customers have been navigating staffing challenges that are negatively impacting certain medical device procedure trends and routine diagnostic testing volumes," Ford said. "As we start the new year, however, while these factors remain headwinds, I'm cautiously optimistic that we're starting to see them peak and in some cases ease a bit."
Over the past few months, the impact of COVID-19 on society has lessened, and economies around the world are increasingly reopening, he said, adding, "The U.S. dollar weakened a bit and inflation has eased somewhat, and hospital-based procedures and routine testing trends continue to steadily improve in many areas."
In the fourth quarter, Abbott booked diagnostics segment revenues of $3.31 billion, down 26.1% year over year. Within diagnostics, for the recently completed quarter, core laboratory sales of $1.26 billion dropped 6.3% year over year, molecular diagnostics revenues of $180 million fell 47.9% year over year, point-of-care diagnostics revenues of $131 million fell 3.3% year over year, and rapid diagnostics revenues of $1.73 billion declined 34.5% year over year.
Excluding COVID-19 test sales, the company's fourth-quarter diagnostics revenues rose 3.8% year over year to $2.24 billion.
Abbott booked fourth-quarter net earnings of $1.03 billion, or 59 cents per share, compared to almost $2 billion, or $1.11 per share, in the prior year's quarter. Fourth quarter adjusted earnings per share (EPS) was $1.03, beating analysts' average estimate of 92 cents.
For the full year 2022, the firm booked overall revenues of $43.65 billion, down 1.3% year over year. Abbott reported 2022 net earnings of $6.93 billion, or $3.91 per share, compared with $7.07 billion, or $3.94 per share, in 2021. Its 2022 adjusted 2022 EPS was $5.35, beating analysts' average estimate of $5.23.
Abbott's total diagnostics revenues in 2022 were $16.58 billion, which was up 6% compared with $15.64 billion in 2021. Total COVID-product revenues were $8.37 billion, up 8.9% compared with $7.68 billion in 2021.
Looking ahead, Abbott said it expects a full-year 2023 EPS of $3.05 to $3.25 and a full-year adjusted EPS of $4.30 to $4.50. Excluding COVID-19 testing-related sales, the company anticipates full-year 2023 organic sales growth in the high-single digits. It anticipates 2023 COVID-19 testing-related sales of around $2 billion.
Ford noted on the call that Abbott has delivered almost 3 billion COVID-19 tests globally since the start of the pandemic.
"Going forward, we expect COVID-19 to transition to more of an endemic seasonal type of respiratory virus, and with that COVID testing, while still important, is expected to decline significantly," he said. "We expect variants will continue to emerge and therefore our [COVID] tests will remain an important part of our leading respiratory testing portfolio, along with flu, [respiratory syncytial virus], and strep, for which we offer across multiple testing platforms, including lab-based systems in hospitals, small desktop devices in urgent care centers and physician offices, as well as at-home tests."
During the pandemic, Abbott significantly expanded the install base of ID Now and opened new testing channels.
"This expanded footprint drove strong growth and supported testing needs when flu and other respiratory infections surged late last year," Ford said. "During this past year, we continued the rollout of Alinity, our innovative suite of diagnostic instruments, and expanded test menus across our platforms for immunoassays, clinical chemistry, and molecular testing."
Abbott shares were down more than 2% to $110.19 in early Wednesday afternoon trading on the New York Stock Exchange.