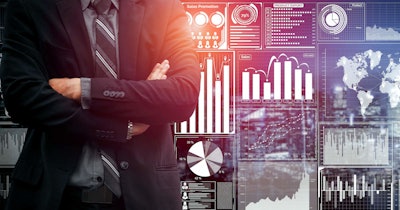 Abbott on Wednesday reported first quarter sales of $9.75 billion, a decline of 18% from $11.9 billion in Q1 2022.
Sales surpassed Wall Street analysts' average estimate of $9.64 billion.
For the first quarter ended March 31, the Abbott Park, IL-based firm posted Diagnostics business sales of $2.69 billion, a 49% decline from Q1 2022. Within Diagnostics, Core Laboratory segment sales were $1.18 billion, Molecular Diagnostics sales were $147 million, Point-of-Care sales were $134 million, and Rapid Diagnostics sales were $1.23 billion.
Diagnostics sales growth in the first quarter was negatively impacted by year-over-year declines in COVID-19 testing-related sales. Worldwide COVID-19 testing sales were $730 million in the first quarter of 2023 compared to $3.3 billion in the first quarter of the prior year.
Excluding COVID-19 testing-related sales, global Diagnostics sales growth was almost flat year-over-year on a reported basis and 4.4% on an organic basis. Organic sales growth, excluding COVID-19 testing-related sales, was led by Core Laboratory, Point of Care, and Rapid Diagnostics, Abbott said. In Molecular Diagnostics, growth was negatively impacted by lower demand for seasonal respiratory testing compared to significantly higher-than-usual demand in the first quarter of the prior year.
In other businesses, Abbott reported Nutrition sales of $1.97 billion, up 4% year-over-year; Established Pharmaceuticals sales of $1.19 billion, up 3.7% year-over-year; and Medical Devices sales of $3.9 billion, up 9% year-over-year.
Although Abbott's Diagnostics segment sales declined because of lower COVID-19 testing demand, there is less of an impact from the pandemic on its overall business, Abbott Chairman and CEO Robert Ford said on a conference call to discuss the company's financial results.
Ford noted that in January, he had expressed optimism that the headwinds Abbott and other companies faced due to the pandemic were starting to peak and in some cases ease. "As we moved through the first part of the year, that's exactly what we continued to see," he said, adding, "Most notably, the impact of COVID has rapidly and significantly lessened."
Behavioral societal shifts are evident, including "a significant increase in travel and tourism we've all seen, heard about, or experienced firsthand," he said. "A much more relevant and important behavioral shift that we're seeing in healthcare globally has been the increased priority people are putting on getting healthy and staying healthy."
For Abbott's businesses, such behavioral shifts are translating to "increased routine diagnostic testing volumes, improved medical device procedure trends, and strong demand for consumer-based health products," Ford said.
The company reported first-quarter net income of $1.32 billion, or $.75 per share, compared to $2.45 billion, or $1.37 per share, in the prior-year quarter. Its adjusted earnings per share (EPS) was $1.03, surpassing Wall Street analysts' average estimate of $.99.
Projected full-year adjusted EPS from continuing operations of $4.30 to $4.50 remains unchanged and reflects an increased outlook for the underlying base business offset by a lower forecasted earnings contribution from COVID-19 testing-related sales. Excluding COVID-19 testing-related sales, Abbott now projects full-year 2023 organic sales growth of at least high single-digits and COVID-19 testing-related sales of approximately $1.5 billion.
On February 17, the company announced a quarterly dividend of $.51 per share, payable May 15 to shareholders of record at the close of business on April 14.
In Wednesday morning trading on the New York Stock Exchange, Abbott shares rose more than 6% to $111.18.