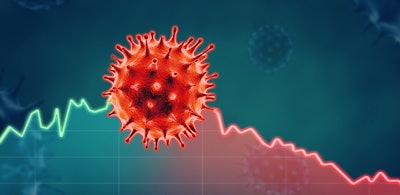 Hologic reported fiscal first quarter revenues of $1.07 billion after the close of the market on Wednesday, a drop of 27% compared to $1.47 billion in Q1 2021.
For the quarter ended December 31, revenues were in line with preliminary financial results reported in January and higher than Hologic's revenue guidance range of $940 million to $990 million provided last October.
Q1 Diagnostics revenues were $559.3 million, down 41% compared to $950.4 million in the prior-year quarter. Excluding revenues for COVID-related products during the current and prior-year quarters, Diagnostics revenues rose 12% year-over-year to $387.7 million.
"It is important to remember that COVID testing revenue was elevated in our fiscal first quarter of 2022 given the surge in infections from the Omicron variant," Karleen Oberton, Hologic chief financial officer, said on a conference call to discuss the financial results. "Thus, a more accurate representation of the diagnostics business is to exclude COVID assay revenue, related ancillaries, and a small amount of revenue from discontinued products."
Within Diagnostics, Q1 cytology and perinatal business revenues of $126.8 million fell 3% year-over-year; molecular diagnostics revenues of $425.2 million fell 48% year-over-year; and blood screening revenues of $7.3 million rose 14% year-over-year.
In other businesses, Q1 Breast Health revenues of $334.2 million fell 7% year-over-year; GYN Surgical revenues of $154.1 million rose 15% year-over-year; and Skeletal Health revenues of $26.6 million dropped 2% year-over-year.
On the conference call, Stephen MacMillan, Hologic chairman, president, and CEO said he believes the firm is well-positioned for long-term growth.
"Under the cloud of COVID, while successfully deploying Panthers and producing our COVID assays, we strengthened Hologic for the long term," he said. "We achieved this through the combination of innovative internal R&D efforts, plus a series of tuck-in acquisitions. As a result, we've had continuous new product releases that have fundamentally transformed our business and boosted our growth profile. Now as the COVID cloud begins to clear, it is increasingly more evident that we are geared for success, geared for growth, and geared to sustained performance over the long term."
Hologic has placed more than 3,250 Panther molecular diagnostic testing systems worldwide along with 19 assays and has launched the Fusion system that enables even further menu expansion, he added.
Driving future growth for Diagnostics means leveraging its expanded Panther installed base, MacMillan said, adding that customers are increasingly adopting new assays, including the Aptima Bacterial Vaginosis, Aptima Candida/Trichomonas Vaginitis, and Aptima Mycoplasma Genitalium assays.
"Likewise, we also leverage our Panther installed base to enter established categories such as virology, and respiratory testing," MacMillan said.
Hologic generated $127 million in COVID-19 assay revenue in the quarter.
Within its portfolio of tests related to COVID, sales were predominantly for the detection of COVID only but there was an "above trend demand for our COVID flu multiplex test," MacMillan said.
Hologic reported Q1 net income of $187.4 million, or $.75 per share, compared to $499.2 million, or $1.95 per share, in the prior-year quarter. Its adjusted EPS for Q1 was $1.07, at the high end of the previously announced guidance.
Cash and cash equivalents at the end of the quarter were $2.44 billion.
The firm expects fiscal 2023 revenues of $3.85 billion to $4 billion, an increase from its previous guidance of $3.7 billion to $3.9 billion. 2023 adjusted earnings per share is expected to be $3.55 to $3.85, an increase from the previously announced guidance of $3.30 to $3.60 per share.
Q2 2023 revenue is expected to be in the range of $930 million to $980 million and adjusted earning per share for the quarter is expected to be $.80 to $.90.
Share of Hologic were up less than 1% to $83.03 in early Thursday morning trading on the Nasdaq.