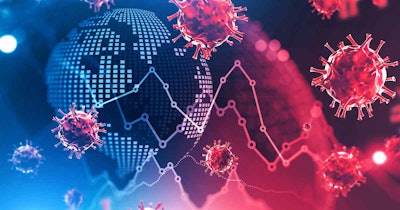 Qiagen after the close of the market on Monday said that its third-quarter net sales fell 7% to $499.6 million from $534.7 million in Q3 2021.
For the three months ended September 30, the Hilden, Germany-based firm said its net sales growth was flat year-over-year on a constant exchange rate (CER) basis.
Of its total revenues in Q3, Qiagen reported $442 million in sales of consumables and related revenues, down 7% year-over-year compared to $473 million, and $58 million in sales of instruments, a decline of 7% year-over-year from $62 million.
Molecular diagnostics products accounted for $257 million of net sales in the third quarter, down 8% year-over-year, and life sciences products accounted for $242 million, a decline of 5% from the prior-year quarter. Sales of non-COVID-19 products increased 11% year-over-year to $417 million, while sales of COVID-19 products fell 48% year-over-year to $83 million.
For sample technologies, sales in the non-COVID product groups rose at a double-digit CER rate year-over-year in Q3 2022. Most sales in the product group were related to DNA-based technologies. Overall sales for sample technologies of $183 million declined 10% due to the anticipated decline in COVID-19 sales.
In Qiagen's diagnostic solutions product group, the firm posted $160 million in diagnostic solutions sales, down 1% year-over-year. QuantiFeron-TB, its test for tuberculosis, kept up a double-digit CER pace in 2022 and generated 14% CER growth in Q3 2022 over the year-ago period. Growth was driven by the continued conversion of the latent TB testing market from a traditional skin test.
Furthermore, in the diagnostic solutions category, QIAstat-Dx sales benefited from instrument placements along with higher consumables sales, in particular for the firm's new gastrointestinal panel in Europe. NeuMoDx sales continued to track in line with the full-year 2022 sales goal of about $80 million CER, with gains in non-COVID use overshadowed by reduced COVID-19 test demand, Qiagen said.
The firm's PCR/nucleic acid amplification-related group sales in Q3 2022 declined 9% to $89 million. Significant double-digit CER growth in non-COVID products was more than offset by a decline in COVID-19 product group sales. The QIAcuity digital PCR system maintained a solid double-digit CER growth pace, supported by the launch of new assays for biopharma applications, Qiagen said.
In its genomics/NGS product group, the firm reported a 2% year-over-year decrease to $52 million. It saw higher sales from non-COVID products, especially universal NGS and functional genomics solutions, but weaker demand for COVID-19 product groups.
Qiagen posted Q3 net income of $82.4 million, or $36 per share, compared to $133.1 million, or $.57 per share, in the prior-year quarter. Its adjusted earnings per share (EPS) were $.53.
At the end of the quarter, the firm had cash and cash equivalents of $1.27 billion and short-term investments of $615.4 million.
For full-year 2022, Qiagen increased its outlook for net sales to about $2.25 billion at CER, compared to a prior outlook for at least $2.2 billion at CER, and for adjusted diluted EPS to about $2.40 CER per share, compared to a prior outlook for at least $2.30 at CER.
The update, among other factors, includes a reaffirmation of the company's goal for double-digit CER sales growth in the non-COVID product groups, which grew 14% CER in the first nine months of 2022, and for a decline in COVID-19 sales amid volatile pandemic trends.
For Q4 2022, net sales are expected to be at least $520 million at CER compared to $582 million in Q4 2021, while adjusted EPS is expected to be at least $0.50 at CER per share compared to $0.74 in the year-ago period.
Qiagen shares rose more than 7% to $44.93 in Tuesday afternoon trading on the New York Stock Exchange.