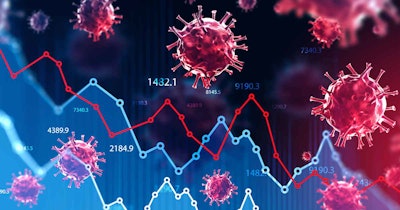 Quest Diagnostics on Thursday said that its third-quarter revenues dropped 10% to $2.49 billion from $2.77 billion in Q3 2021.
The Secaucus, NJ-based firm beat analysts' average estimate for Q3 revenues of $2.35 billion.
For the quarter ended September 30, Quest's COVID-19 testing revenues declined 55% year-over-year to $316 million from $709 million, while base business revenues increased 5% year-over-year to $2.17 billion from $2.07 billion.
"We accelerated growth in the base business in the third quarter, with a strong performance across much of the country," Jim Davis, CEO-elect of Quest Diagnostics, said in a statement. "Our base business revenue grew … year-over-year in the third quarter, with performance rebounding in August and September from the softer volume trends we saw earlier in the year. At the same time, we continued to invest in advanced diagnostics and consumer-initiated testing while managing our cost structure to help offset inflationary pressures and declining COVID-19 volumes."
Quest posted Q3 net income of $276 million, or $2.17 per share, compared to $527 million, or $4.02 per share, in the prior-year quarter. Its earnings per share were short of analysts' average estimate of $2.19.
The company updated its guidance for full-year 2022 and now expects revenues between $9.72 billion and $9.86 billion compared to its previously announced guidance of $9.50 billion to $9.75 billion.
Full-year 2022 reported diluted EPS is now expected to be between $8.52 and $8.72, and adjusted diluted EPS is expected to be between $9.75 and $9.95.
At the end of the quarter, Quest had cash and cash equivalents of $700 million.
Its shares were up more than 5% to $133.24 in early Thursday morning trading on the New York Stock Exchange (NYSE).