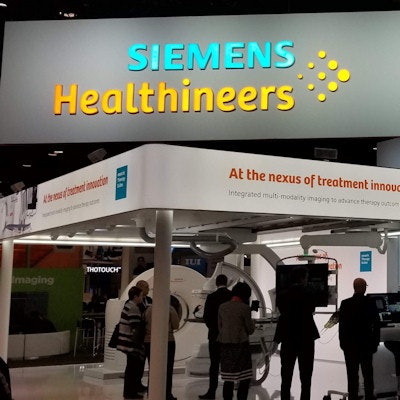 Despite lagging performance in its Diagnostics business, Siemens Healthineers posted strong overall financial results for its fourth quarter (end-September 30), with revenue growing 8% after currency adjustment.
For the period, Siemens Healthineers posted fourth-quarter revenue of $4.615 billion, up 8% after adjusting for currency changes from $4.127 billion in the corresponding quarter of 2018. Net income for the most recent quarter was $565 million, compared with net income of $417 million in the fourth quarter of fiscal 2018.
The company said that its fourth-quarter numbers were driven by "very strong growth" in its Imaging and Advanced Therapies divisions. Imaging posted a 10% revenue gain after currency adjustment, while Advanced Therapies saw 14% growth after adjusting for currency changes.
In comparison, the Diagnostics segment saw just 2% revenue growth. The division posted revenues of $1.235 billion, up 2% after currency adjustments from sales of $1.177 billion in the fourth quarter of 2018.
Siemens reaffirmed that the Diagnostics business is a "key value driver" for the company, addressing a market that's larger than $28 billion in revenue and growing at greater than 5% on a compound annual basis. The Diagnostics segment is on track to achieve market growth in the midterm, but it has experienced delays in reaching profitability targets, the company reported.
Siemens said it was overly focused on shipments of its Atellica Solution analyzer, and it faced the challenge of initially higher production and support costs as the product was launching. Also, winning contracts in larger healthcare settings meant longer installation times. The company shipped more than 1,820 Atellica analyzers in fiscal 2019.
On the positive side, Siemens has brought in new management expertise for the division, "delayered" the Diagnostics organization, and refined the product's position with a focus on assay penetration. The company projected a profit margin in the midteens by 2024 thanks to the Atellica launch, whereas without the product, margins would have continued to decline.
The company said it expects revenue growth after currency adjustment to be in the 5% to 6% range in fiscal 2020.