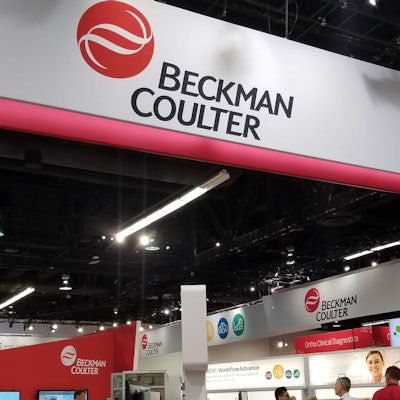 Beckman Coulter announced its Access SARS-CoV-2 immunoglobulin G (IgG) assay is now available in markets that accept the CE Mark.
The company has already shipped tests to more than 400 hospitals, clinics, and diagnostics laboratories in the U.S. and has started shipping globally. It has more than 16,000 immunoassay analyzers worldwide, and has boosted its manufacturing to deliver more than 30 million tests a month.
The Access SARS-CoV-2 IgG assay targets antibodies that recognize the receptor-binding domain (RBD) of the spike protein that SARS-CoV-2 uses to bind to a human cell receptor. Antibodies that target the RBD have the potential to be neutralizing and thus prevent future infection by blocking the virus from entering the cell, the firm said. It's also the reason why many vaccine developers are targeting the RBD of the spike protein.
Many of Beckman Coulter's analyzers can deliver up to 400 routine tests an hour and a large number are connected to hospital information systems. The Access SARS-CoV-2 IgG test can also be run on Beckman Coulter's Access 2 analyzer, a compact tabletop unit. The test integrates into laboratory workflows so serology testing can be added to routine blood tests.
The firm said it will seek the CE Mark for its Access SARS-CoV-2 immunoglobulin M (IgM) assay in the near future.