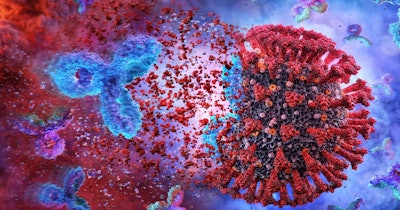 Salt Lake City-based NanoSpot.ai on Tuesday announced the full commercial launch in the European market of its SARS-CoV-2 Total Antibody Test.
The test uses an agglutination-based method combined with an artificial intelligence (AI)-enabled mobile application to deliver semi-quantitative antibody test results at the point of care.
The firm obtained the CE Mark for the device last May, enabling its use in European Union countries and other nations that accept the designation.
The test, which will be available for purchase through select distribution channels, takes less than three minutes from sample to result without the need for a complex diagnostic instrument, the firm said.
It can be completed at home or in a professional setting and has demonstrated 97.6% sensitivity and 100% specificity, NanoSpot.ai added.
Last September, the company announced a partnership with Opto, an Athroa company, to commercialize the SARS-CoV-2 Antibody Test in the EU.