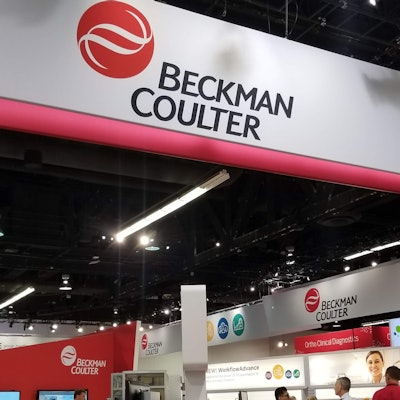 Beckman Coulter has released its Access SARS-CoV-2 Immunoglobulin M (IgM) assay, a new antibody test for the novel coronavirus. The assay targets antibodies that recognize the receptor-binding domain (RBD) of the SARS-CoV-2 spike protein.
The diagnostic showed 98.3% sensitivity when tested on specimens taken 15-30 days after COVID-19 symptom onset. Beckman Coulter also said the diagnostic showed near-perfect specificity in a batch of 1,400 negative samples.
The test is notable because RBD-neutralizing antibodies may block the virus from entering cells, potentially preventing future infections, the company noted.
With the addition of the Access assay, Beckman Coulter now offers separate SARS-CoV-2 IgM and IgG antibody assays. The company also announced the development of a SARS-CoV-2 quantitative IgG assay and antigen test, which is awaiting clearance from the U.S. Food and Drug Administration.