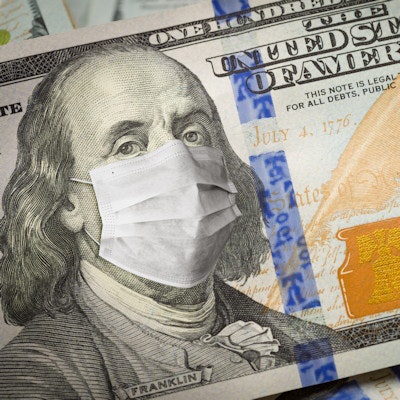 In a bid to speed up COVID-19 testing, the U.S. Centers for Medicare and Medicaid Services (CMS) has announced a new policy to pay for expedited COVID-19 test results. Starting January 1, Medicare will pay $100 only to labs that complete high-throughput COVID-19 diagnostic tests within two calendar days of specimens being collected.
Under the new policy, labs that take longer than two days to complete COVID-19 tests will be paid $75 -- a 25% pay cut.
Back in April, CMS increased payment from $51 to $100 for COVID-19 tests. The amended ruling lowers the base payment for COVID-19 diagnostic tests run on high-throughput technology to $75, but CMS will add on $25 for labs on two conditions:
The lab completes the test in two calendar days or less
The lab completes the majority of its COVID-19 diagnostic tests that use high-throughput technology in two calendar days or less for all its patients (not just Medicare ones) in the previous month.
CMS established these requirements to spur faster high-throughput COVID-19 diagnostic testing not only for Medicare patients, but for all patients, the agency said.
The new proposal is already drawing fire from lab medicine groups, however. The College of American Pathologists (CAP) characterized the new policy as a pay cut and said that the policy would penalize labs for delays that in many cases are outside their control.
"The CAP urges the CMS to cease implementation of this misguided fee structure and answer our repeated calls to take steps to support pathologists and laboratories by increasing Medicare rates for COVID-19 tests," said CAP President Dr. Patrick Godbey, in a press statement.