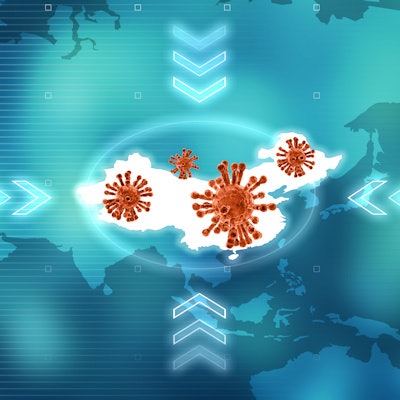 The U.S. Centers for Disease Control and Prevention (CDC) said it is focused on its own testing for the coronavirus and currently has no delays in processing tests sent from the field. Meanwhile, it continues to work on resolving problems with diagnostics it shipped to state labs.
The CDC developed its own diagnostic for SARS-CoV-2 (formerly called 2019-nCoV), which causes the respiratory illness COVID-19. Following an emergency use authorization (EUA) for the test from the U.S. Food and Drug Administration (FDA), the agency began shipping its test out to state and local labs in 50 states, as well as international labs, on February 5.
But the CDC soon reported that there were problems with some of the tests and that it needed to reformulate reagents. According to the Association of Public Health Laboratories (APHL), as of February 21, only four states had validated the CDC test: Nebraska, California, Illinois, and Nevada.
The focus of coronavirus testing in the U.S. is on "testing here at the CDC," said Dr. Nancy Messonnier, director of the agency's National Center for Immunization and Respiratory Diseases, during a February 21 press briefing. There have been no issues with the quality of testing at the CDC, and at this point, there is no lag time for testing, she said.
The problems reported at state labs are a normal part, unfortunately, of the process of validating tests. The CDC still considers it a priority to get the kits to patients as soon as possible, but that is overridden by the priority to make sure the test is correct, she said.
"We obviously would not want to use anything but the most perfect possible kits, since we're making determinations about whether people have COVID-19 or not," Messonnier said. "So that is still where we are."
Test count is low
The agency is now reporting two sets of case figures for the U.S. -- separating out people who returned via State Department flights versus those detected through U.S. public health laboratories. In an update on February 24, the agency reported that 426 people have been tested after being picked up by public health laboratories and a total of 14 cases had been confirmed.
As for those individuals who were repatriated, there were three positive cases from Wuhan, China, and 36 positive cases from the Diamond Princess cruise ship, which had been subject to a quarantine by Japanese health officials.
COVID-19: Confirmed cases in the U.S.
Travel-related
12
Person-to-person spread
2
Total confirmed cases
14
Total tested
426
Figures updated February 23. Cases detected through U.S. public health surveillance systems since January 21. Does not include cases in people who returned via State Department chartered flights. Source: CDC.
The CDC recently announced the start of community surveillance, working through an existing influenza network of public health labs in a handful of major U.S. cities. Initially the effort involved five cities (Chicago, New York City, Los Angeles, San Francisco, and Seattle), and Honolulu has reportedly been added as a sixth hub. Testing through this initiative will initially be done at the CDC until local labs have their own diagnostics up and running, according to the APHL.
The APHL with public health partners announced on February 24 that it has requested supplemental appropriations from the White House and Congress to strengthen its ability to respond to the threats posed by the novel coronavirus. Among other things, the APHL has requested additional funding for the CDC and reimbursement for uncompensated local and state care.
Also on February 24, APHL CEO Scott Becker sent a letter to FDA Commissioner Dr. Stephen Hahn urging the agency to allow a select group of government laboratories the ability to create and implement a laboratory-developed test (LDT) for SARS-CoV-2. Labs need to be able to act more quickly than possible under the emergency use authorization, the letter explained.
"We recognize the gravity of the current COVID-19 situation across the globe and wish to have greater diagnostic capability for both surveillance and for patient diagnosis across the United States, hence this extraordinary and rare request," wrote Becker with Grace Kubin, PhD, director of laboratory services at the Texas Department of State Health Services.
During a February 24 press briefing, World Health Organization (WHO) officials declined to call the coronavirus outbreak a "pandemic," noting that the facts do not support that terminology at this time. A pandemic means that everyone in the world is likely to be exposed and a portion will fall sick, Dr. Michael Ryan, executive director of the WHO Health Emergencies Programme, explained. However, now is the time to be prepared for a potential pandemic -- to be prepared to treat cases and to establish adequate containment measures, he said.
In its latest situation report, the WHO reported that 78,811 cases had been confirmed globally, including 77,042 in China. To date, 2,445 deaths have been reported in China and 17 deaths outside China.