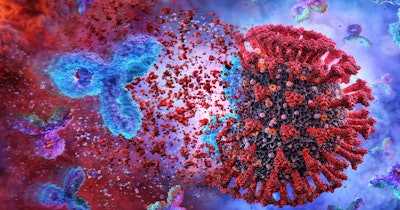 The U.S. Food and Drug Administration (FDA) has granted an Emergency Use Authorization (EUA) for the LumiraDx SARS-CoV-2 & Flu A/B RNA Star Complete assay, the company announced on Monday.
The multiplex test utilizes the firm's qStar technology allowing for high-throughput, direct amplification.
LumiraDx said its technology leverages a single-step direct method for nucleic acid extraction and amplification on validated, open reverse transcription-polymerase chain reaction (RT-PCR) instruments.
The test allows for the simultaneous detection and differentiation of influenza A, influenza B, and SARS-CoV-2 infections within 20 minutes or less.
Clinical signs and symptoms of respiratory viral infection due to SARS-CoV-2 and influenza can be similar, making it essential to correctly identify them and to treat and manage patients accordingly.
High complexity laboratories can now use the LumiraDx assay to quickly identify and differentiate individuals suspected by a healthcare provider of respiratory viral infection consistent with COVID-19, the firm said.
The assay has been validated by the UK Health Security Agency (UKHSA) under the Coronavirus Test Device Approvals (CTDA) process.
LumiraDx launched the assay in the European Union and other markets that accept the CE-IVD Mark in June 2022 and will now begin commercialization of the test in the U.S. and U.K.