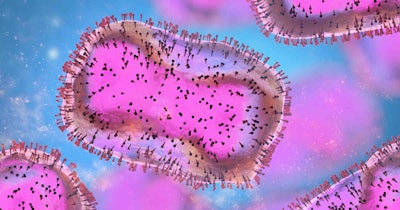 The U.S. Food and Drug Administration (FDA) has granted an emergency use authorization (EUA) to Cue Health for its molecular test to detect the mpox virus, formerly known as the monkeypox virus, the firm said on Monday.
Its nucleic acid amplification test (NAAT) is run on the Cue Reader and can be performed at any CLIA-waived facility, delivering results in 25 minutes.
The Cue Mpox Molecular Test requires use of a wand to collect a sample or dip into a viral transport medium containing a sample. The wand is then inserted into a test cartridge which has been placed inside a reader. Results are delivered to a mobile device in 25 minutes.
According to Cue Health, its test demonstrated high accuracy in trials, achieving 100% concordance with the Center for Disease Control and Prevention's (CDC's) mpox test on the clinical samples tested.
Mpox is a highly contagious and potentially severe viral infection that has recently emerged as a global health concern. With symptoms ranging from fever and fatigue to severe skin eruptions and respiratory distress, early and accurate detection of mpox is crucial in controlling its spread and providing timely medical intervention.
San Diego-based Cue Health said the EUA marks an important milestone; this is its first non-COVID test to receive FDA authorization and its initial offering in the sexual health category for point-of-care diagnostic testing.
Last week, the company announced a 24% year-over-year decline in fourth-quarter revenue, mainly due to the drop in demand for COVID-19 testing. However, plans to expand its test menu are progressing, Cue Health said, and it also launched a suite of diagnostic test kits for at-home testing.